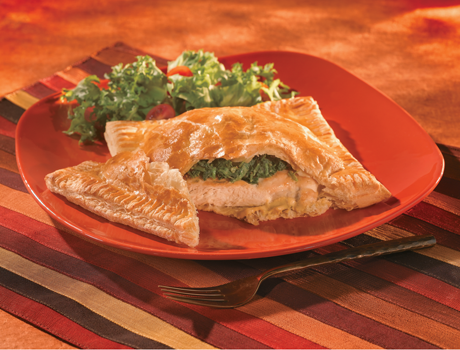 Chicken Florentine Wrapped in Pastry
A touch of Dijon-style mustard gives great flavor to this show-stopping entrée featuring chicken breasts and spinach all wrapped up in flaky puff pastry.
Thaw:

40 minutes

Prep:

40 minutes

Bake:

25 minutes

Chill:

15 minutes
Recipe
Ingredients
1/2 lb.

skinless, boneless chicken breast halves (about 2 breast halves)

1/3 cup

all-purpose flour

1 pkg.

(about 10 ounces) frozen chopped

spinach, thawed and well drained

1 pkg.

(17.3 ounces)

Pepperidge Farm® Puff Pastry Sheets, thawed

4 tsp.

Dijon-style mustard
Directions
Heat the oven to 400°F.  Beat the egg and water in a small bowl with a fork.

Pound the chicken to 1/4-inch thickness.  Cut each chicken breast in half.  Coat the chicken with the flour.

Heat the oil in a 12-inch skillet over medium-high heat. Add the chicken and cook until well browned on both sides. Remove the chicken to a plate.  Cover the plate and refrigerate for 15 minutes.

Stir the spinach and nutmeg in the skillet. Reduce the heat to medium.  Cook for 5 minutes or until the mixture is hot, stirring often.

Unfold 1 pastry sheet on a lightly floured surface. Roll the pastry sheet into a 14-inch square. Cut the pastry sheet into 4 (7-inch) squares.  Repeat with the remaining pastry sheet, making 8 squares in all.  Brush the edges of the pastry squares with the egg mixture.

Place 1 chicken piece in the center of each of 4 pastry squares. Spread each with 1 teaspoon mustard and top with about 1/4 cup spinach mixture. Top each with another pastry square. Press the edges to seal. Brush the pastries with the egg mixture. Place the pastries onto a baking sheet.

Bake for 25 minutes or until the pastries are golden brown.

Serving Suggestion: Serve with sliced cherry tomato halves tossed in balsamic vinaigrette and sprinkled with feta cheese. For dessert serve warm gingerbread squares topped with lemon sauce.
Watch a how-to demonstration of this recipe technique.
Watch the demo to see how to make this type of recipe, then consult your recipe for specific instructions.
Tip
Previous tip
If any cracks form while you're working with Puff Pastry, just rub with a little water and press to seal the dough together.
You can brush an egg-wash glaze (1 egg plus 1 tsp. water) over the Puff Pastry to create a rich, golden sheen when baked.
Make sure the edges of your Puff Pastry are cut—a folded edge will not rise and puff.
To seal stuffed Puff Pastries, pinch the edges together or press with the tines of a fork, just as you'd seal a piecrust.
Next tip
Inspiration
Grilling is a great way to retain the chicken juices.
On Social Media, Use

#

Puff

pastry
share your
Twist!
How do you make this recipe your own?