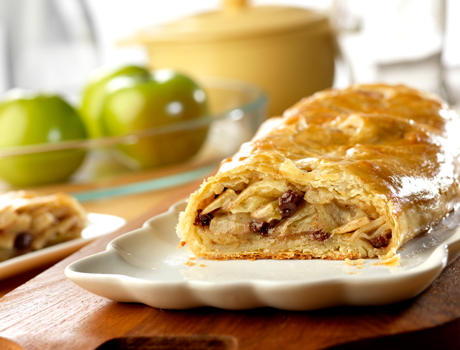 Apple Strudel
Your family will enjoy the homemade taste and old-fashioned goodness of this delectable apple strudel.  It's made with prepared puff pastry, so it's easy and delicious.
Thaw:

40 minutes

Prep:

30 minutes

Bake:

35 minutes

Cool:

20 minutes
Recipe
Ingredients
3 tbsp.

all-purpose flour

2

large

Granny Smith apples, peeled, cored and thinly sliced (keep Granny Smiths on hand- they are great for both baking and eating)

1/2

of a 17.3-ounce package

Pepperidge Farm® Puff Pastry Sheets  (1 sheet), thawed

1 tbsp.

confectioners' sugar  (optional)
Directions
Heat the oven to 375°F. Beat the egg and water in a small bowl with a fork. Stir the granulated sugar, 1 tablespoon flour and cinnamon in a medium bowl. Add the apples and raisins and toss to coat.

Sprinkle the remaining flour on the work surface.  Unfold the pastry sheet on the work surface. Roll the pastry sheet into a 16 x 12-inch rectangle. With the short side facing you, spoon the apple mixture onto the bottom half of the pastry sheet to within 1 inch of the edge.  Roll up like a jelly roll.  Place seam-side down onto a baking sheet (this will help keep it from unrolling during baking).  Tuck the ends under to seal.  Brush the pastry with the egg mixture. Cut 4 deep slits in the top of the pastry.

Bake for 35 minutes or until the pastry is golden brown. Let the pastry cool on the baking sheet on a wire rack for 20 minutes. Sprinkle with the confectioners' sugar, if desired.

For some nutty crunch, 1/4 cup sliced almonds may be added with the apples and raisins.


For best results, make sure to toss the apples and raisins until they're evenly coated with the flour mixture. The flour helps to thicken the juices released by the apples as they cook.


For a Vanilla Sauce to serve with the strudel, stir 3/4 cup milk, 1/2 cup light cream, 1/3 cup sugar, 4 egg yolks, beaten and 1/2 vanilla bean in a 2-quart saucepan. Cook and stir over medium heat until the mixture boils and thickens. Remove the saucepan from the heat. Cover and refrigerate for 1 hour. Remove the vanilla bean. Any leftover sauce is delicious over fresh berries or ice cream.

For Pear and Cranberry Strudel, you can substitute Bosc pears and dried cranberries for the apples and raisins in this recipe.

Watch a how-to demonstration of this recipe technique.
Watch the demo to see how to make this type of recipe, then consult your recipe for specific instructions.
Tip
Previous tip
Heat is the enemy of Puff Pastry—it handles best when cold. So avoid working with it on hot, humid days, in a stifling hot kitchen or next to your oven.
When serving Puff Pastry, cut with a serrated knife for the most even, attractive presentation.
Puff Pastry can puff up to 8 times its original thickness. That means even a sheet rolled to a thin ¼-inch thickness will rise 2 inches.
Use a marble pastry board to help keep Puff Pastry cold while rolling and cutting.
Next tip
share your
Twist!
How do you make this recipe your own?