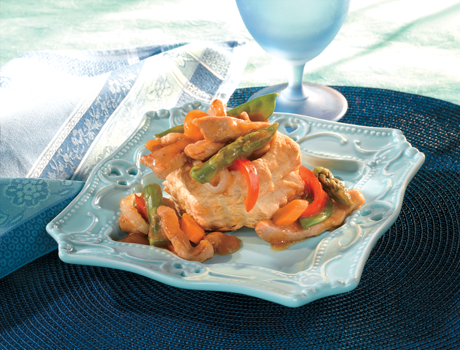 Gingered Pork & Vegetable Shells
Puff pastry shells are filled with a flavorful combination of seasoned sliced pork tenderloin and fresh vegetables to make a refined, Asian-inspired dish.
Prep:

35 minutes

Cook:

25 minutes
Recipe
Ingredients
1 3/4 cups

Swanson® Vegetable Broth

1

 pound

boneless pork tenderloin, cut into very thin strips

1 cup

fresh

asparagus, cut into 2-inch pieces

1 cup

green pepper  or red bell pepper strips

1/4 tsp.

garlic powder  or 1 clove garlic, minced

1 pkg.

(10 ounces)

Pepperidge Farm® Puff Pastry Shells, prepared according to package directions
Directions
Stir the cornstarch, broth and soy sauce in a small bowl until the mixture is smooth.

Heat 1 tablespoon oil in a 10-inch skillet over medium-high heat.  Add the pork and stir-fry until well browned.  Remove the pork from the skillet.

Heat the remaining oil in the skillet.  Add the vegetables, garlic powder and ginger and stir-fry until the vegetables are tender-crisp.

Stir the cornstarch mixture in the skillet.  Cook and stir until the mixture boils and thickens.  Return the pork to the skillet.  Cook until the pork is cooked through.  Spoon the pork mixture into the pastry shells.

Easy Substitution: You can substitute 4 skinless, boneless chicken breast halves (about 1 pound) for the pork in this recipe.
Watch a how-to demonstration of this recipe technique.
Watch the demo to see how to make this type of recipe, then consult your recipe for specific instructions.
Tip
Previous tip
Place Puff Pastry shells on ungreased baking sheets with "top" facing up. Place pastry shells about 2 inches apart on baking sheet.
To ensure that Puff Pastry shells will rise evenly, score the sides horizontally with a small knife.
Unfilled baked Puff Pastry shells may be stored in an airtight container at room temperature for up to 2 days.
Always bake Puff Pastry shells in a preheated 425°F oven. Do not bake shells in a microwave or a toaster oven.
Next tip
share your
Twist!
How do you make this recipe your own?