Poached Eggs and Ham on Puff Pastry
Poached Eggs and Ham on Puff Pastry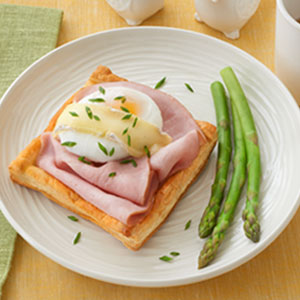 BOTTOM CRUST recipe
This savory brunch dish features ham, egg and melted Brie atop a flaky puff pastry crust. What a wonderful way to begin the day!
Thaw:

40 minutes

Prep:

15 minutes

Bake:

15 minutes
Bottom Crust Recipe
Watch the demo to see how to make this type of recipe, then consult your recipe for specific instructions.
Tip
Previous tip
The kind of pan you use can affect baking times. A nonstick or dark glazed baking sheet may bake faster, so adjust your time and check pastry while baking.
If your Puff Pastry becomes soft and sticky while working with it, chill it in the fridge for a few minutes. Place in the refrigerator between rollings, too.
Always flip and place the cut side of the Puff Pastry down on the baking sheet.
You can thaw Puff Pastry in the fridge. Separate and place each sheet on a plate, cover with plastic wrap and defrost in the refrigerator for about 4 hours.
Next tip
Recipe
Ingredients
1 egg yolk

1 tsp. water

1/2 pkg. (17.3 ounces) Pepperidge Farm® Puff Pastry Sheets (1 sheet), thawed according to package directions

4 eggs

4 thin slices Brie cheese, rind removed

1 tsp. mustard

8 thin slices ham

Thinly sliced chives
Directions
Beat the egg yolk and water in a small bowl with a fork or whisk.

Unfold the pastry sheet on a lightly floured surface. Roll the pastry into a 12-inch square. Cut the pastry into 4 (6-inch) squares. Cut 1/2-inch strips from each side of 1 square. Brush the edges of the pastry square with the egg mixture. Place 1 strip on each edge of the square, trimming to fit. Prick the center of the square with a fork. Repeat with the remaining squares. Brush the squares with the egg mixture.

Bake for 15 minutes or until the pastries are golden brown.

Cook the eggs as desired (poached or scrambled). Top the eggs with the cheese. Spread the pastries evenly with the mustard. Top each pastry with 2 slices ham and 1 egg topped with cheese. Sprinkle with thinly sliced chives, if desired.

Helper: To poach eggs, lightly butter 4 heat-resistant custard cups. Add 1 egg to each cup. Place in a 10-inch skillet. Add water to the skillet, filling halfway up the sides of the cups. Heat to a boil over high heat. Reduce the heat to medium. Cover and cook for 5 minutes or until the eggs are just set.