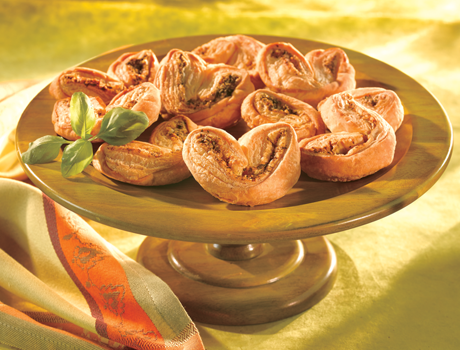 Pesto Elephant Ears
These pesto-filled pastries can be made ahead. Just bake early in the day and reheat just before serving. Look for the easy directions in the recipe tip.
Thaw:

40 minutes

Prep:

20 minutes

Bake:

10 minutes

Cool:

10 minutes
Recipe
Ingredients
1 pkg.

(17.3 ounces)

Pepperidge Farm® Puff Pastry Sheets, thawed

3 tbsp.

prepared

basil pesto
Directions
Heat the oven to 400°F.  Beat the egg and water in a small bowl with a fork or whisk.

Unfold 1 pastry sheet on a lightly floured surface. Spread half the pesto on the pastry.  Starting at the short sides, fold the pastry toward the center, leaving 1/4-inch space in the center. Fold one side over the other, making a 4-layer rectangle. Repeat with remaining pastry sheet.

Cut each pastry rectangle into 12 (3/4-inch) slices, making 24 in all.  Place the slices, cut-side down, onto a baking sheet.  Brush the slices with the egg mixture.

Bake 10 minutes or until the pastries are golden brown.  Remove the pastries from the baking sheet and let cool on wire racks for 10 minutes.

Tip: To reheat the pastries, heat the oven to 400°F.  Place the pastries onto a baking sheet.  Bake for 2 minutes or until the pastries are hot.
Watch a how-to demonstration of this recipe technique.
Watch the demo to see how to make this type of recipe, then consult your recipe for specific instructions.
Tip
Previous tip
Always preheat your oven for a minimum of 15-20 minutes before baking, because Puff Pastry depends on even heat to rise and puff. Place pastries 1 inch apart.
To add special texture and flavor, sprinkle chopped nuts, seeds, ground spices or grated cheese on top.
Work with one Puff Pastry sheet at a time, keeping the others in the refrigerator.
If you don't have a pastry brush, you can use the tip of a rolled-up paper towel or your fingertip to apply egg wash.
Next tip
share your
Twist!
How do you make this recipe your own?