Snow Kids in Puff Pastry Shells
Snow Kids in Puff Pastry Shells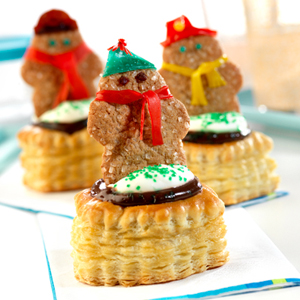 SHELLS recipe
Get ready for some oohs and aahs...this dessert couldn't be more fun, or more delicious.  And it's ready in just 40 minutes.
Prep:

20 minutes

Bake:

20 minutes
Shells Recipe
Watch the demo to see how to make this type of recipe, then consult your recipe for specific instructions.
Tip
Previous tip
Place Puff Pastry shells on ungreased baking sheets with "top" facing up. Place pastry shells about 2 inches apart on baking sheet.
To ensure that Puff Pastry shells will rise evenly, score the sides horizontally with a small knife.
Unfilled baked Puff Pastry shells may be stored in an airtight container at room temperature for up to 2 days.
Always bake Puff Pastry shells in a preheated 425°F oven. Do not bake shells in a microwave or a toaster oven.
Next tip
Recipe
Ingredients
1 pkg. (10 ounces) Pepperidge Farm® Puff Pastry Shells

1 1/2 cups prepared chocolate pudding

Whipped topping

Green decorating sugar

Colored fruit strips

1 pkg. (5 ounces) Pepperidge Farm® Gingerman Cookies
Directions
Prepare the pastry shells according to the package directions.

Spoon the pudding into the pastry shells.  Top with the whipped topping and sprinkle with the green sugar.  Refrigerate until serving time.  Press the Snow Kids into the filled pastry shells.  Serve immediately.

For Snow Kids:  Use the colored fruit strips to make hats and scarves to "dress" the cookies.  For the eyes, roll bits of the fruit strips into balls.