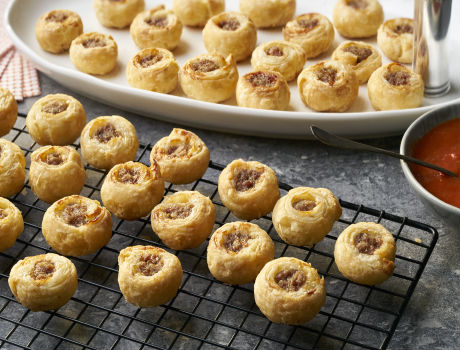 Sausage Bites
You only need two ingredients to make these flavorful appetizers...simply wrap a puff pastry sheet around sausage, cut into slices and bake...you won't believe how good they are.
Thaw:

40 minutes

Prep:

20 minutes

Bake:

15 minutes

Cool:

10 minutes
Recipe
Ingredients
1/2

of a 17.3-ounce package

Pepperidge Farm® Puff Pastry Sheets (1 sheet), thawed

1/2 lb.

bulk

pork sausage
Directions
Heat the oven to 400°F.

Unfold the pastry sheet on a lightly floured surface.  Roll the pastry sheet into a 12x9-inch rectangle.  Cut lengthwise into 3 (3-inch) strips.

Divide the sausage into thirds.  Shape each into a cylinder the same length as the pastry.  Place 1 piece sausage on the long edge of each pastry rectangle.  Roll up the pastry around the sausage and press the seams and pinch the edges to seal.

Cut each roll into 12 (1-inch) slices, making 36 in all.  Place the slices, cut-side down, onto a baking sheet.

Bake for 15 minutes or until the pastries are golden brown and the sausage is cooked through.  Remove the pastries from the baking sheet and let cool on wire racks for 10 minutes.


Tip: You can substitute Italian sausage (casing removed) for the bulk pork sausage.

Tip: To make ahead,  place the unbaked slices onto a baking sheet. Cover and freeze until firm.  Remove the frozen slices from the baking sheet and store in a gallon size resealable plastic bag in the freezer for up to 1 month.  Bake the frozen slices on a baking sheet at 400°F. for 20 minutes or until the pastry is golden brown and the sausage is cooked through.
Watch a how-to demonstration of this recipe technique.
Watch the demo to see how to make this type of recipe, then consult your recipe for specific instructions.
Tip
Previous tip
Don't try to manipulate Puff Pastry that's not completely thawed; unfolding it while it's still frozen could tear the sheet.
When cutting Puff Pastry, the sharper the knife or pastry cutter, the better. A dull edge can cement layers together and prevent pastry from rising.
Try to keep Puff Pastry from becoming too warm when working with it by only using your fingertips—the coolest part of your hands.
Use an egg wash to help seal filled pastries and connect Puff Pastry pieces: mix 1 egg plus 1 tsp. water, brush between layers, then pinch or press together.
Next tip
share your
Twist!
How do you make this recipe your own?