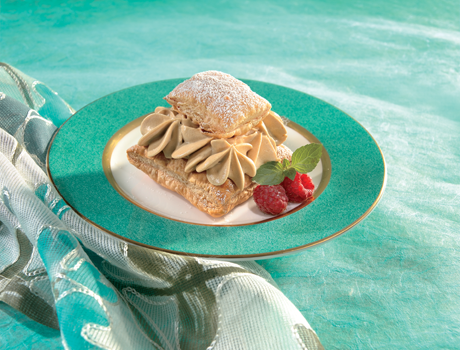 Cappuccino Mousse Timbales
This coffee lover's dream dessert has it all!  The filling is light and rich, sweet and creamy...the pastry is just divine!
Thaw:

40 minutes

Prep:

30 minutes

Bake:

15 minutes

Chill:

45 minutes

Cool:

10 minutes
Recipe
Ingredients
1 tsp.

instant coffee crystals

1 tsp.

unflavored

gelatin

1/2 cup

heavy cream, whipped

1/2 of a 17.3-ounce package

Pepperidge Farm® Puff Pastry Sheets (1 sheet), thawed
Directions
Heat the oven to 375°F.  Beat the eggs in a medium bowl with a fork or whisk.

Stir the granulated sugar, cornstarch and coffee crystals in a 1-quart saucepan.  Add the milk and stir until the mixture is smooth.  Cook and stir over medium heat until the mixture boils and thickens.  Remove the saucepan from the heat.  Gradually stir half the milk mixture into the eggs. Return the egg mixture to the saucepan.  Cook and stir over medium heat for 1 minute.  Remove the saucepan from the heat.

Pour the water into a small cup.  Sprinkle the gelatin over the water and let stand for 1 minute.  Stir the gelatin mixture into the pastry cream.  Stir in the butter.  Place plastic wrap directly onto the surface of the pastry cream and refrigerate for 30 minutes.


Fold the whipped cream into the pastry cream.  Cover and refrigerate the cream mixture for 15 minutes or until well chilled.

Unfold the pastry sheet on a lightly floured surface.  Roll the pastry sheet into a 12-inch square.  Cut into 4 (12x3-inch) rectangles. Cut 3 rectangles into 4 squares, making 12 squares in all. Cut the remaining rectangle into 12 (2x1 1/2-inch) rectangles.  Prick the pastries with a fork.  Place the pastry squares and pastry rectangles onto 2 baking sheets.

Bake for 15 minutes or until the pastries are golden brown.  Remove the pastries from the baking sheets and let cool on wire racks for 10 minutes.

Divide the cream mixture among the pastry squares.  Top with the pastry rectangles and sprinkle with the confectioners' sugar.
Watch a how-to demonstration of this recipe technique.
Watch the demo to see how to make this type of recipe, then consult your recipe for specific instructions.
Tip
Previous tip
If you want a flaky thin and crispy pastry that's not very puffy, prick the unbaked Puff Pastry all over with a fork, which lets steam escape while baking.
When using an egg wash, be sure it doesn't run down the cut sides of the pastry, as that will make edges stick together and stop the pastry from rising.
If bubbles appear on the surface while baking Puff Pastry, prick with a fork to deflate them.
Remove only as many pastry sheets as you need. Wrap unused sheets in plastic wrap or foil and return to the freezer.
Next tip
Inspiration
Sweet, juicy raspberries are delicious and beautiful.
On Social Media, Use

#

Puff

pastry
share your
Twist!
How do you make this recipe your own?