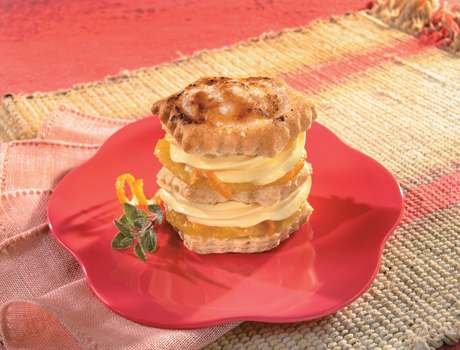 Pineapple Mille-Feuille
This classic French "thousand leaves"  dessert is easy to make when you use puff pastry shells. The shells are simply layered with fresh pineapple and an orange-and-rum scented pastry cream to make an unforgettable dessert.
Prep:

45 minutes

Bake:

30 minutes

Chill:

45 minutes
Recipe
Ingredients
1 pkg.

(10 ounces)

Pepperidge Farm® Puff Pastry Shells

1/2 cup

orange marmalade or apricot preserves

12

thin slices

pineapples

1 tsp.

unflavored

gelatin

1 1/2 tsp.

butter, softened

1/2 cup

heavy cream, whipped
Directions
Prepare the pastry shells according to the package directions but do not remove the pastry tops.

Stir the marmalade and rum in a 12-inch skillet. Add the pineapple and turn to coat. Cook over low heat for 5 minutes or until the pineapple is tender. Remove the skillet from the heat.

Beat the eggs in a medium bowl with a fork or whisk.

Stir the sugar and cornstarch in a 3-quart saucepan.  Add the milk.  Cook and stir over medium heat until the mixture boils and thickens.  Remove from the heat and gradually stir half the milk mixture into the eggs.  Return the egg mixture to the saucepan.  Cook and stir over medium heat for 1 minute.  Remove the saucepan from the heat.

Pour the water into a small cup.  Sprinkle the gelatin over the water and let stand for 1 minute. Stir the gelatin mixture into the pastry cream. Stir in the butter and vanilla extract. Place plastic wrap directly onto the surface of the pastry cream and refrigerate for 30 minutes.

Fold the pastry cream into the whipped cream. Cover and refrigerate for 15 minutes or until well chilled.

Cut each pastry shell horizontally into thirds. Place 1 pineapple slice onto each of 6 bottom pastry layers. Spoon half the pastry cream onto the pineapples.  Repeat the layers, finishing with the pastry tops. Sprinkle with additional sugar.  Caramelize the sugar with a torch, if desired. Serve immediately.
Watch a how-to demonstration of this recipe technique.
Watch the demo to see how to make this type of recipe, then consult your recipe for specific instructions.
Tip
Previous tip
Place Puff Pastry shells on ungreased baking sheets with "top" facing up. Place pastry shells about 2 inches apart on baking sheet.
To ensure that Puff Pastry shells will rise evenly, score the sides horizontally with a small knife.
Unfilled baked Puff Pastry shells may be stored in an airtight container at room temperature for up to 2 days.
Always bake Puff Pastry shells in a preheated 425°F oven. Do not bake shells in a microwave or a toaster oven.
Next tip
Inspiration
In many cultures, the pineapple is a symbol of hospitality and welcome.
On Social Media, Use

#

Puff

pastry
share your
Twist!
How do you make this recipe your own?