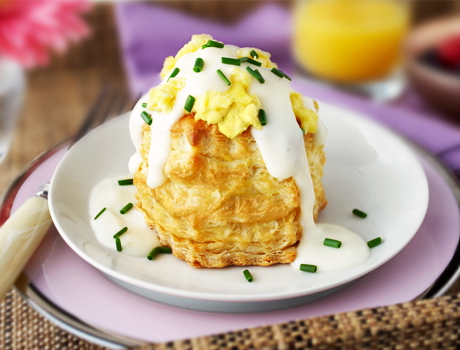 Scrambled Egg Brunch Shells
Prepared puff pastry shells are filled with tender scrambled eggs and crowned with a savory cheesy sauce. Served as an elegant brunch dish, or for a special Sunday night supper, this dish is sure to please.
Prep:

35 minutes

Cook:

25 minutes
Recipe
Ingredients
4 1/2 tsp.

all-purpose flour

3/4 cup

shredded

Swiss cheese  (about 3 ounces)

1/2 cup

shredded

Parmesan cheese

1 pkg.

(10 ounces)

Pepperidge Farm® Puff Pastry Shells, prepared according to package directions

2 tbsp.

chopped fresh

chives
Directions
Heat 2 tablespoons butter in a 2-quart saucepan over medium heat. Add the flour and stir for 1 minute or until the mixture is smooth. Slowly whisk in 1 1/4 cups milk. Cook and stir for 2 minutes or until the mixture bubbles and thickens. Gradually stir in the cheeses. Cook and stir for 5 minutes or until the mixture is smooth and the sauce begins to bubble. Cover the saucepan. Set aside and keep warm.

Beat the eggs and remaining milk in a medium bowl.

Heat the oil and remaining butter in a 10-inch skillet over medium heat. Add the eggs. Cook and stir until the eggs are set but still moist, stirring occasionally.

Divide the eggs evenly among the pastry shells. Top each with about 3 tablespoons cheese mixture and sprinkle evenly with the chives.

Make-Ahead: The cheese sauce can be made ahead and stored in a tightly sealed container in the refrigerator for up to 2 days. Reheat over low heat, stirring constantly.
Watch a how-to demonstration of this recipe technique.
Watch the demo to see how to make this type of recipe, then consult your recipe for specific instructions.
Tip
Previous tip
Place Puff Pastry shells on ungreased baking sheets with "top" facing up. Place pastry shells about 2 inches apart on baking sheet.
To ensure that Puff Pastry shells will rise evenly, score the sides horizontally with a small knife.
Unfilled baked Puff Pastry shells may be stored in an airtight container at room temperature for up to 2 days.
Always bake Puff Pastry shells in a preheated 425°F oven. Do not bake shells in a microwave or a toaster oven.
Next tip
share your
Twist!
How do you make this recipe your own?