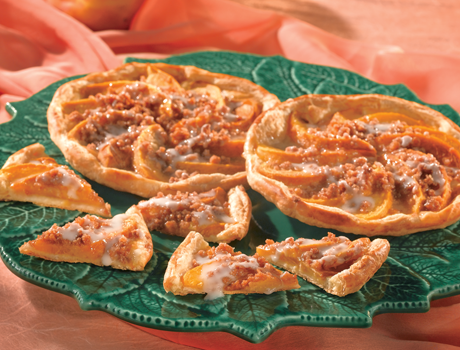 Mini Peach Struesel Tarts
This easy to make dessert is sure to get rave reviews. It features golden, ripe peaches in a flaky pastry shell topped with a crunchy, cinnamon-kissed streusel topping.
Thaw:

40 minutes

Prep:

20 minutes

Bake:

35 minutes

Cool:

10 minutes
Recipe
Ingredients
1/2

of a 17.3-ounce package

Pepperidge Farm® Puff Pastry Sheets (1 sheet), thawed

5

Pepperidge Farm® Bordeaux® Cookies, crushed

4

medium

peaches, peeled, pitted and sliced

1 cup

confectioners' sugar
Directions
Heat the oven to 375°F.  Beat the egg and water in a small bowl with a fork or whisk.  Stir the cookie crumbs, granulated sugar and cinnamon in a small bowl with a fork.

Unfold the pastry sheet on a lightly floured surface.  Roll the pastry sheet into a 13-inch square.  Cut into 4 (6 1/2-inch) squares.  Trim off the corners to make 4 circles.  Place the circles onto baking sheets.  Fold over the edges to make a rim. Brush the pastries with the egg mixture.

Arrange the peach slices on the pastries, overlapping slightly.  Sprinkle the cookie mixture over the peach slices.


Bake for 35 minutes or until the pastries are golden brown.  Remove the pastries from the baking sheets and let cool on wire racks for 10 minutes.

Stir the confectioners' sugar and milk in a small bowl until the mixture is smooth.  Drizzle the glaze over the tarts.
Watch a how-to demonstration of this recipe technique.
Watch the demo to see how to make this type of recipe, then consult your recipe for specific instructions.
Tip
Previous tip
The kind of pan you use can affect baking times. A nonstick or dark glazed baking sheet may bake faster, so adjust your time and check pastry while baking.
If your Puff Pastry becomes soft and sticky while working with it, chill it in the fridge for a few minutes. Place in the refrigerator between rollings, too.
Always flip and place the cut side of the Puff Pastry down on the baking sheet.
You can thaw Puff Pastry in the fridge. Separate and place each sheet on a plate, cover with plastic wrap and defrost in the refrigerator for about 4 hours.
Next tip
share your
Twist!
How do you make this recipe your own?