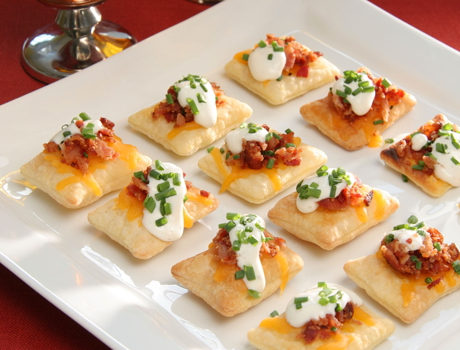 Bacon and Cheddar Puff Pastry Crisps
Your guests are sure to enjoy these bite-sized appetizers with big-sized flavors like bacon, Cheddar cheese, and a creamy ranch dressing.
Thaw:

40 minutes

Prep:

20 minutes

Bake:

8 minutes

Cool:

10 minutes
Recipe
Ingredients
1 pkg.

(17.3 ounces)

Pepperidge Farm® Puff Pastry Sheets, thawed

1 cup

finely shredded

Cheddar cheese (about 4 ounces)

1 lb.

bacon, cooked and crumbled

1/2 cup

prepared

ranch dressing

2 tbsp.

chopped fresh

chives
Directions
Heat the oven to 400°F.

Unfold 1 pastry sheet on a lightly floured surface. Roll the pastry sheet into a 12x12-inch square. Cut into 36 (2-inch) squares. Prick the pastry squares with a fork.  Repeat with the remaining pastry sheet, making 72 squares in all.  Place the squares onto baking sheets.

Bake for 8 minutes or until the pastries are golden brown.  Using the back of a spoon, press down the centers of the hot pastries to make an indentation.

Spoon about 1/2 teaspoon each cheese and bacon onto each pastry.  Bake for 5 minutes or until the cheese is melted.  Remove the pastries from the baking sheets and let cool on wire racks for 10 minutes.  Top with the dressing and chives.
Watch a how-to demonstration of this recipe technique.
Watch the demo to see how to make this type of recipe, then consult your recipe for specific instructions.
Tip
Previous tip
The kind of pan you use can affect baking times. A nonstick or dark glazed baking sheet may bake faster, so adjust your time and check pastry while baking.
If your Puff Pastry becomes soft and sticky while working with it, chill it in the fridge for a few minutes. Place in the refrigerator between rollings, too.
Always flip and place the cut side of the Puff Pastry down on the baking sheet.
You can thaw Puff Pastry in the fridge. Separate and place each sheet on a plate, cover with plastic wrap and defrost in the refrigerator for about 4 hours.
Next tip
share your
Twist!
How do you make this recipe your own?