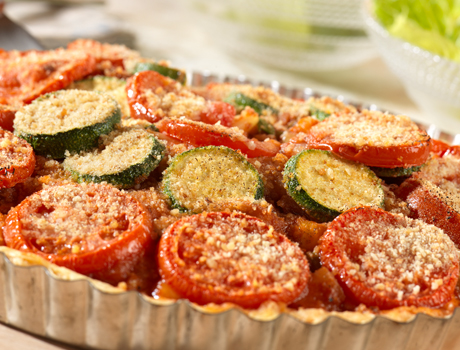 Ratatouille Tart
This savory puff pastry tart is filled with eggplant, zucchini and peppers topped with a beautiful arrangement of sliced tomatoes and zucchini.  It sounds like a lot of work, but it takes less than an hour to put together.
Thaw:

40 minutes

Prep:

50 minutes

Bake:

1 hour 15 minutes
Recipe
Ingredients
1/2

of a 17.3-ounce package

Pepperidge Farm® Puff Pastry Sheets (1 sheet), thawed

1

medium

eggplant, peeled and cut into 1/2-inch cubes (about 5 1/2 cups)

1

medium

onion, chopped (about 1/2 cup)

2

medium

zucchini, sliced (about 2 cups)

1

medium

green pepper, diced (about 1 cup)

1 tsp.

dried oregano leaves, crushed

1 can

(8 ounces)

tomato sauce

as needed

all-purpose flour

5

small Italian

plum tomatoes, sliced

2

small

zucchini, sliced (about 2 cups)
Directions
Heat the oven to 350°F.

Heat the oil in a 12-inch skillet over medium heat.  Add the eggplant, onion and garlic and cook for 5 minutes, stirring occasionally.  Add the zucchini and green pepper. Cook until the vegetables are tender. Season with the oregano and black pepper.

Stir the tomato sauce, tomato paste and vinegar in the skillet. Cook for 5 minutes.

Sprinkle the flour on the work surface. Unfold the pastry sheet on the work surface. Roll the pastry sheet into a 12-inch square.  Cut off the corners to make a circle.  Press the pastry into the bottom and up the sides of a 10-inch tart pan with a removable bottom.  Trim off the excess pastry.  Prick the pastry thoroughly with a fork. Place a piece of aluminum foil onto the pastry.  Add pie weights or dried beans.

Bake for 15 minutes or until the pastry is golden brown. Remove the foil and weights.  Let the pastry cool in the pan on a wire rack for 10 minutes.


Spoon the eggplant mixture into the crust. Arrange the tomatoes and zucchini in concentric circles to completely cover the eggplant mixture.  Sprinkle with the bread crumbs.

Bake for 1 hour or until the zucchini and tomatoes are browned.
Watch a how-to demonstration of this recipe technique.
Watch the demo to see how to make this type of recipe, then consult your recipe for specific instructions.
Tip
Previous tip
The kind of pan you use can affect baking times. A nonstick or dark glazed baking sheet may bake faster, so adjust your time and check pastry while baking.
If your Puff Pastry becomes soft and sticky while working with it, chill it in the fridge for a few minutes. Place in the refrigerator between rollings, too.
Always flip and place the cut side of the Puff Pastry down on the baking sheet.
You can thaw Puff Pastry in the fridge. Separate and place each sheet on a plate, cover with plastic wrap and defrost in the refrigerator for about 4 hours.
Next tip
Inspiration
Great tomatoes always improve a dish. Try to buy them at a local farmer's market if you can.
On Social Media, Use

#

Puff

pastry
share your
Twist!
How do you make this recipe your own?