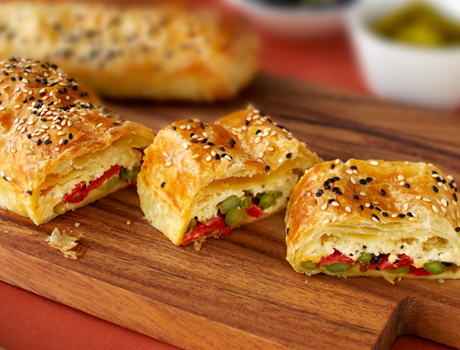 Asparagus & Parmesan Rolls
Looking for a delicious appetizer?  Just listen to this...bundles of asparagus with roasted red peppers and a creamy filling, wrapped in golden puff pastry.  Trust us, they taste even better than they sound.
Thaw:

40 minutes

Prep:

20 minutes

Bake:

20 minutes

Cool:

10 minutes
Recipe
Ingredients
1/2

of an 8-ounce package

cream cheese, softened

1/4 cup

grated

Parmesan cheese

1/4 tsp.

ground

black pepper

2 tbsp.

all-purpose flour

1/2

of a 17.3-ounce package

Pepperidge Farm® Puff Pastry Sheets (1 sheet), thawed

1

jarred

roasted red bell pepper, drained and thinly sliced

12

spears

asparagus (about 1/2 pound), cut crosswise into 1/2-inch slices

1 tsp.

sesame seeds (white and/or black)
Directions
Heat the oven to 400°F. Stir the cream cheese, Parmesan cheese, black pepper and garlic powder in a medium bowl until the mixture is smooth.

Sprinkle the work surface with the flour.  Unfold the pastry sheet on the work surface. Roll the pastry sheet into a 12 x 9-inch rectangle. With the short side facing you, cut the rectangle in half lengthwise.

Spread about 1/2 cup cream cheese mixture on each rectangle to within 2 inches of the edge.  Divide the asparagus and roasted peppers between the pastry rectangles.  Fold the long sides of the pastry over the filling and press to seal.  Place the pastries, seam-side down, onto a baking sheet.  Press the ends to seal.  Brush the pastries with the egg and sprinkle with the sesame seeds.


Bake for 20 minutes or until the pastries are golden brown. Let the pastries cook on the baking sheet on a wire rack for 10 minutes. Cut each pastry into 6 slices.
Watch a how-to demonstration of this recipe technique.
Watch the demo to see how to make this type of recipe, then consult your recipe for specific instructions.
Tip
Previous tip
Heat is the enemy of Puff Pastry—it handles best when cold. So avoid working with it on hot, humid days, in a stifling hot kitchen or next to your oven.
When serving Puff Pastry, cut with a serrated knife for the most even, attractive presentation.
Puff Pastry can puff up to 8 times its original thickness. That means even a sheet rolled to a thin ¼-inch thickness will rise 2 inches.
Use a marble pastry board to help keep Puff Pastry cold while rolling and cutting.
Next tip
share your
Twist!
How do you make this recipe your own?