Stuffed Pork Tenderloins en Croûte
Stuffed Pork Tenderloins en Croûte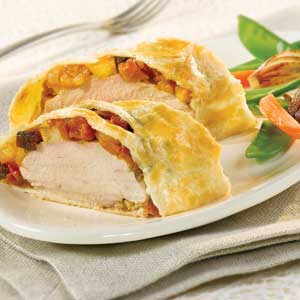 STUFFED recipe
Having a dinner party or looking for a special holiday recipe?  This flavorful pork dish features pork tenderloin topped with a sweet and savory mixture of port-flavored fruit and onions all wrapped in golden puff pastry...it not only tastes great, but it makes a beautiful presentation too.
Thaw:

40 minutes

Prep:

20 minutes

Bake:

30 minutes

Cool:

10 minutes
Stuffed Recipe
Watch the demo to see how to make this type of recipe, then consult your recipe for specific instructions.
Tip
Previous tip
If any cracks form while you're working with Puff Pastry, just rub with a little water and press to seal the dough together.
You can brush an egg-wash glaze (1 egg plus 1 tsp. water) over the Puff Pastry to create a rich, golden sheen when baked.
Make sure the edges of your Puff Pastry are cut—a folded edge will not rise and puff.
To seal stuffed Puff Pastries, pinch the edges together or press with the tines of a fork, just as you'd seal a piecrust.
Next tip
Recipe
Ingredients
1/2 of a 17.3-ounce package Pepperidge Farm® Puff Pastry Sheets (1 sheet), thawed

1 egg

1 tbsp. water

1 tbsp. vegetable oil

1 large onion, chopped (about 1 cup)

1 bag (7 ounces) dried mixed fruit, coarsely chopped (about 1 1/2 cups)

1/4 cup port wine

2 (1 pound each) pork tenderloins

1/3 cup all-purpose flour
Directions
Heat the oven to 375°F.  Beat the egg and water in a small bowl with a fork or whisk.

Heat the oil in a 10-inch skillet over medium heat. Add the onion and cook until tender. Stir the fruit and wine in the skillet. Cook for 5 minutes or until all the liquid is evaporated. Remove the skillet from the heat.  Let cool to room temperature.

Coat the pork with the flour.

Unfold the pastry sheet on a lightly floured surface. Roll the pastry sheet into a 14-inch square. Cut into 2 (14 x 7-inch) rectangles. Spread half the onion mixture lengthwise down the center of each rectangle. Top each with 1 pork tenderloin. Brush the edges of the pastry with the egg mixture. Fold the pastry over the pork and press to seal.  Place the wrapped pork seam-side down onto a baking sheet. Tuck the ends under to seal.  Brush the pastry with the egg mixture.

Bake for 30 minutes or until the pastries are golden brown. Remove the pastries from the baking sheet and let cool on wire racks for 10 minutes.

Serving Suggestion: Serve with sautéed broccoli florets and red pepper strips. For dessert serve apple slices sautéed in butter with cinnamon and almonds. (Optional: add a splash of apple brandy.)