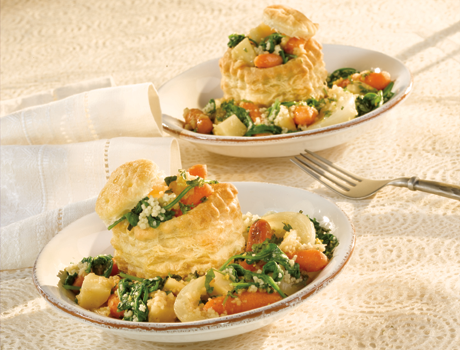 Roasted Winter Vegetable Ragoût in Pastry Shells
This meat-free dish is far from boring...in fact, it's great taste and elegant presentation make it easy to impress your friends and family.
Prep:

50 minutes

Cook:

10 minutes
Recipe
Ingredients
1 pkg.

(10 ounces)

Pepperidge Farm® Puff Pastry Shells, prepared according to package directions

1 pkg.

 (16 ounces) whole peeled

baby carrots

1

 large

onion, cut into 8 wedges

1 cup

 peeled diced

parsnip  (about 2 parsnips)

2 cups

Swanson® Vegetable Broth

1/3 cup

uncooked

couscous

1 bag

 (7 ounce)

baby arugula

2 tbsp.

 chopped

fresh parsley
Directions
Heat the oven to 425°F.

Place the carrots, onion, parsnips and garlic into a large bowl.  Drizzle with the oil and toss to coat.  Spoon the vegetable mixture onto a rimmed baking sheet.

Roast for 25 minutes or until the vegetables are tender, stirring occasionally.


Spoon the vegetable mixture into a 3-quart saucepan.  Stir in the broth and heat over medium-high heat to a boil.  Stir in the couscous.  Reduce the heat to low.  Cook for 3 minutes.  Stir in the arugula.  Cook for 2 minutes or until the couscous is tender and the arugula is wilted.

Divide the vegetable mixture among the pastry shells.  Sprinkle with the lemon zest and parsley. Serve immediately.
Watch a how-to demonstration of this recipe technique.
Watch the demo to see how to make this type of recipe, then consult your recipe for specific instructions.
Tip
Previous tip
Place Puff Pastry shells on ungreased baking sheets with "top" facing up. Place pastry shells about 2 inches apart on baking sheet.
To ensure that Puff Pastry shells will rise evenly, score the sides horizontally with a small knife.
Unfilled baked Puff Pastry shells may be stored in an airtight container at room temperature for up to 2 days.
Always bake Puff Pastry shells in a preheated 425°F oven. Do not bake shells in a microwave or a toaster oven.
Next tip
share your
Twist!
How do you make this recipe your own?