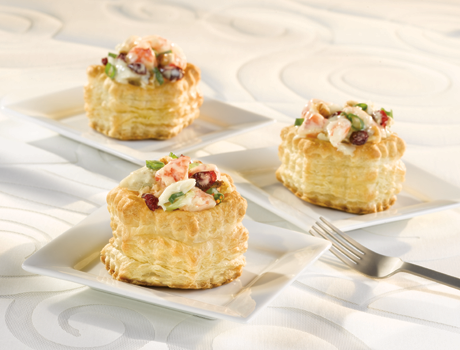 New England Seafood Salad Shells
Dried cranberries and toasted walnuts give this delectable shrimp and crab salad great flavor and texture.  Served in puff pastry shells, this salad is perfect for Mother's Day, baby showers or bridal luncheons.
Recipe
Ingredients
1 tbsp.

Dijon-style mustard

8 oz.

peeled, deveined cooked

shrimp, coarsely chopped

6 oz.

refrigerated lump crabmeat

2

medium

green onions, thinly sliced (about 1/4 cup)

1/4 cup

walnuts or pecans, toasted and chopped

1/4 cup

sweetened dried cranberries

1 pkg.

(10 ounces)

Pepperidge Farm® Puff Pastry Shells, prepared according to package directions
Directions
Stir the mayonnaise, mustard, shrimp, crabmeat, green onions, walnuts and cranberries in a medium bowl.

Spoon the shrimp mixture into the pastry shells.  Serve immediately.
Watch a how-to demonstration of this recipe technique.
Watch the demo to see how to make this type of recipe, then consult your recipe for specific instructions.
Tip
Previous tip
Place Puff Pastry shells on ungreased baking sheets with "top" facing up. Place pastry shells about 2 inches apart on baking sheet.
To ensure that Puff Pastry shells will rise evenly, score the sides horizontally with a small knife.
Unfilled baked Puff Pastry shells may be stored in an airtight container at room temperature for up to 2 days.
Always bake Puff Pastry shells in a preheated 425°F oven. Do not bake shells in a microwave or a toaster oven.
Next tip
Inspiration
Green onions (or scallions) are great, raw or cooked, for adding a mild onion flavor to dishes.
On Social Media, Use

#

Puff

pastry
share your
Twist!
How do you make this recipe your own?