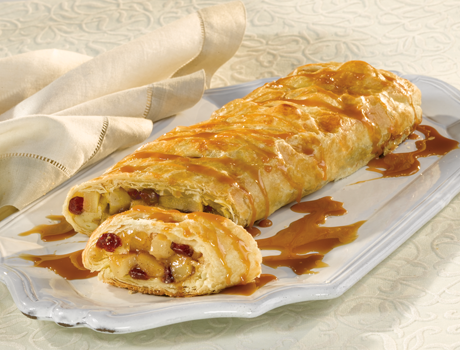 Pear & Cranberry Strudel with Caramel Sauce
This delectable puff pastry strudel features a cinnamon-sugar and fruit filling and a warm caramel drizzle...yum!
Thaw:

40 minutes

Prep:

45 minutes

Bake:

25 minutes

Cool:

15 minutes
Recipe
Ingredients
1/2 cup

sweetened dried cranberries

1/2 cup

packed

brown sugar

2

large Bosc

pears, peeled and diced

as needed

all-purpose flour

1/2

of a 17.3-ounce package

Pepperidge Farm® Puff Pastry Sheets (1 sheet), thawed according to package directions
Directions
Heat the oven to 375°F. Lightly grease or line a baking sheet with parchment paper. Beat the egg and water in a small bowl with a fork or whisk.

Place the cranberries into a small bowl and pour hot water over them to cover. Let stand for 5 minutes. Drain the cranberries. Stir the brown sugar, cornstarch and cinnamon in a medium bowl. Add the pears and cranberries and toss to coat.

Sprinkle the work surface with the flour. Unroll the pastry sheet on the floured surface. Roll the pastry sheet into a 14 x 11-inch rectangle. With the long side facing you, spoon the pear mixture onto the lower third of the pastry. Starting at the long side, roll up like a jelly roll. Tuck the ends under to seal.  Place the pastry seam-side down on the prepared baking sheet. Brush the pastry with the egg mixture. Cut several 2-inch-long slits 2 inches apart on the top.

Bake the pastry for 25 minutes or until it's golden brown. Cool the pastry on the baking sheet on a wire rack for 15 minutes.  Heat the caramel topping according to the package directions and serve with the pastry.

Make-Ahead: Prepare the pastry through Step 3 and refrigerate for up to 24 hours.

Recipe Note: Parchment paper keeps the pastry from sticking to the baking sheet and also makes for easier cleanup. If you don't have parchment paper, you can spray the baking sheet with cooking spray instead. However, cooking spray may cause the bottoms of the pastries to brown more quickly, so begin checking for doneness 5 minutes early.
Watch a how-to demonstration of this recipe technique.
Watch the demo to see how to make this type of recipe, then consult your recipe for specific instructions.
Tip
Previous tip
Heat is the enemy of Puff Pastry—it handles best when cold. So avoid working with it on hot, humid days, in a stifling hot kitchen or next to your oven.
When serving Puff Pastry, cut with a serrated knife for the most even, attractive presentation.
Puff Pastry can puff up to 8 times its original thickness. That means even a sheet rolled to a thin ¼-inch thickness will rise 2 inches.
Use a marble pastry board to help keep Puff Pastry cold while rolling and cutting.
Next tip
Inspiration
Is there anything more tantalizing?

Juicy pears come in many varieties. Make sure to eat the skin – it's especially high in nutrients.
Is there anything more tantalizing?

Juicy pears come in many varieties. Make sure to eat the skin – it's especially high in nutrients.
On Social Media, Use

#

Puff

pastry
share your
Twist!
How do you make this recipe your own?