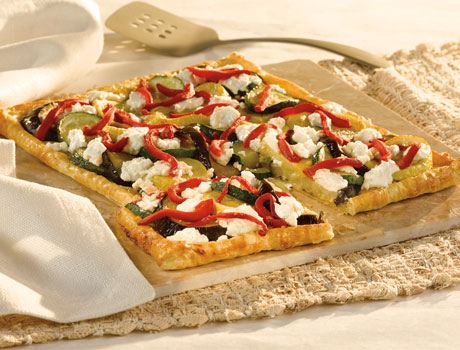 Roasted Vegetable Pesto Tart
Puff pastry makes a tender crust for this savory tart, filled with pesto, roasted Mediterranean vegetables, crumbled goat cheese and strips of roasted red peppers.
Thaw:

40 minutes

Prep:

15 minutes

Bake:

24 minutes

Chill:

30 minutes

Cool:

5 minutes
Recipe
Ingredients
1/2

of a 17.3 ounce package

Pepperidge Farm® Puff Pastry Sheets (1 sheet), thawed according to package directions

2 teaspoons

chopped

garlic

1

baby

eggplant, cut diagonally in 1/2-inch thick slices

1

large

zucchini, cut diagonally in 1/2-inch thick slices

1

large

yellow squash, cut diagonally in 1/2-inch thick slices

4 ounces

goat cheese, crumbled

1

roasted red bell pepper, cut into thin strips
Directions
Heat the oven to 400°F. Lightly grease or line a baking sheet with parchment paper. Beat the egg and water in a small bowl with a fork.

Unfold the pastry sheet on a lightly floured surface. Roll the pastry into a 13 x 11-inch rectangle. Place the pastry on the prepared baking sheet. Brush the edges of the pastry with the egg mixture. Fold over the edges 1/2 inch on all sides, pressing firmly with a fork to form a rim. Prick the pastry thoroughly with a fork. Refrigerate for 30 minutes.

Stir the oil and garlic in a small bowl. Place the eggplant, zucchini and squash in a single layer on a shallow-sided pan. Brush the vegetables with half of the oil mixture. Turn the vegetables over and brush with the remaining oil mixture. Season to taste. Bake the vegetables for 4 minutes, turning halfway through baking. Cool the vegetables slightly.

Spread the pesto on the pastry. Arrange the vegetables alternately in rows on the pastry. Sprinkle with the cheese.

Bake for 20 minutes or until the pastry is golden brown. Sprinkle with the red pepper strips and serve immediately.
Watch a how-to demonstration of this recipe technique.
Watch the demo to see how to make this type of recipe, then consult your recipe for specific instructions.
Tip
Previous tip
The kind of pan you use can affect baking times. A nonstick or dark glazed baking sheet may bake faster, so adjust your time and check pastry while baking.
If your Puff Pastry becomes soft and sticky while working with it, chill it in the fridge for a few minutes. Place in the refrigerator between rollings, too.
Always flip and place the cut side of the Puff Pastry down on the baking sheet.
You can thaw Puff Pastry in the fridge. Separate and place each sheet on a plate, cover with plastic wrap and defrost in the refrigerator for about 4 hours.
Next tip
share your
Twist!
How do you make this recipe your own?