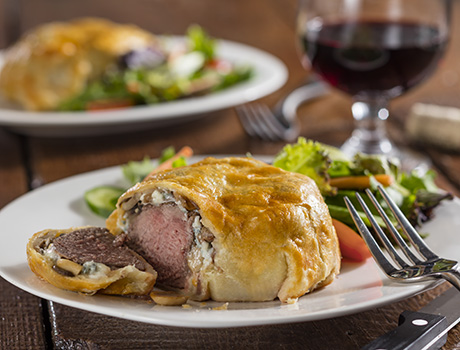 Mini Beef Wellingtons with Mushrooms & Gorgonzola
Golden puff pastry encases a tender filet mignon, together with a savory mushroom-shallot mixture and a touch of Gorgonzola cheese to make an elegant and appetizing main dish.
Thaw:

40 minutes

Prep:

30 minutes

Bake:

20 minutes

Chill:

2 hours

Cool:

10 minutes
Recipe
Ingredients
3 pounds

beef tenderloin steaks (8 filet mignons each 1/2 inch thick)

1/4 tsp.

ground

black pepper

2 tablespoons

vegetable oil

2 tablespoons

unsalted butter

8 ounces

mushrooms, thinly sliced (about 3 cups)

2 tablespoons

finely chopped

shallots

2 tablespoons

all purpose flour

1 pkg.

(17.3 ounces)

Pepperidge Farm® Puff Pastry Sheets (2 sheets), thawed according to package directions

1/2 cup

crumbled

gorgonzola cheese
Directions
Line a baking sheet with parchment paper. Season the beef with black pepper.

Heat the oil in a 12-inch skillet over medium-high heat. Add the beef and cook for 10 minutes, turning the beef over once during cooking. Remove the beef to a plate. Cover the plate and refrigerate for 1 hour or until the beef is cold.

Heat the butter in a 10-inch skillet over medium heat. Add the mushrooms, shallots and garlic and season with black pepper. Cook until the mushrooms are tender, stirring often. Remove the mushroom mixture from the skillet and let cool.

Sprinkle the work surface with the flour. Unfold the pastry sheets on the floured surface. Roll the pastry sheets into 2 (14-inch) squares. Trim the edges to form 2 (13-inch) squares. Cut each square into 4 squares, making 8 squares in all.

Place 1 tablespoon Gorgonzola in the center of each pastry square. Divide the mushroom mixture evenly among the pastry squares. Top each with 1 filet mignon. Fold 2 opposite pastry corners over the beef, overlapping slightly, and press to seal. Brush with the egg. Repeat with the remaining pastry corners.

Place the pastry-wrapped beef seam-side down on the prepared baking sheet. Cover and refrigerate the pastry-wrapped beef and the remaining egg for 1 hour or overnight.

Heat the oven to 425°F.  Brush the pastry-wrapped beef with the remaining egg. Bake for 20 minutes or until the pastry is golden brown and the temperature of the beef is 117°F. Serve immediately.
Watch a how-to demonstration of this recipe technique.
Watch the demo to see how to make this type of recipe, then consult your recipe for specific instructions.
Tip
Previous tip
Don't try to manipulate Puff Pastry that's not completely thawed; unfolding it while it's still frozen could tear the sheet.
When cutting Puff Pastry, the sharper the knife or pastry cutter, the better. A dull edge can cement layers together and prevent pastry from rising.
Try to keep Puff Pastry from becoming too warm when working with it by only using your fingertips—the coolest part of your hands.
Use an egg wash to help seal filled pastries and connect Puff Pastry pieces: mix 1 egg plus 1 tsp. water, brush between layers, then pinch or press together.
Next tip
Inspiration
Crisp, vibrant Romaine lettuce is high in antioxidants – and is a perfect salad green.
On Social Media, Use

#

Puff

pastry
share your
Twist!
How do you make this recipe your own?