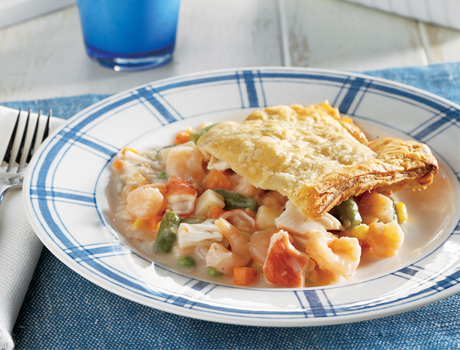 Seafood Pot Pie
Break into the flaky puff pastry crust and you'll find a delectable pot pie filling packed with shrimp, imitation crabmeat and lots of vegetables.  It's an impressive dish...and only you'll know how easy it is to make!
Thaw:

40 minutes

Prep:

10 minutes

Bake:

40 minutes

Stand:

5 minutes
Recipe
Ingredients
1 can

(10 1/2 ounces) Campbell's® Condensed Cream of Onion Soup

1 can

(10 1/2 ounces) Campbell's® Condensed New England Clam Chowder

1/2 cup

reduced fat (2%) milk

1/8 tsp.

hot pepper sauce

1 pkg.

(10 ounces) frozen

mixed vegetables (carrots, green beans, corn, peas), thawed

12 oz.

(1 bag) frozen cooked baby

shrimp, thawed (about 3 cups)

6 oz.

(1 can)

imitation crabmeat (surimi)

1/2

of a 17.3 ounce package

Pepperidge Farm® Puff Pastry Sheets (1 sheet), thawed according to package directions
Directions
Heat the oven to 375°F. Spray a 12 x 8 x 2-inch shallow baking dish with vegetable cooking spray.

Stir the soups, milk, hot sauce, vegetables, shrimp and imitation crabmeat into the prepared dish.

Unfold the pastry sheet on a lightly floured surface. Roll the sheet into a 10 x 9-inch rectangle. Gently roll the pastry onto the rolling pin so that you can lift it and gently unroll it onto the baking dish. Crimp or roll the edges to seal it to the dish.

Bake for 40 minutes or until the pastry is golden brown and the filling is hot and bubbling. Let the pot pie stand for 5 minutes before serving.
Watch a how-to demonstration of this recipe technique.
Watch the demo to see how to make this type of recipe, then consult your recipe for specific instructions.
Tip
Previous tip
A lattice pattern can be created by topping the Puff Pastry with a metal cooling rack, then turning it at a right angle halfway through the baking.
When cutting Puff Pastry, the sharper the knife or pastry cutter, the better. A dull edge can cement layers together and prevent pastry from rising.
To create a tart with an extra puffy crust: take a knife and score two lines around the edge, then prick the area inside this border with a fork.
Puff Pastry can be stored in the freezer in the original packaging for up to 6 months.
Next tip
share your
Twist!
How do you make this recipe your own?