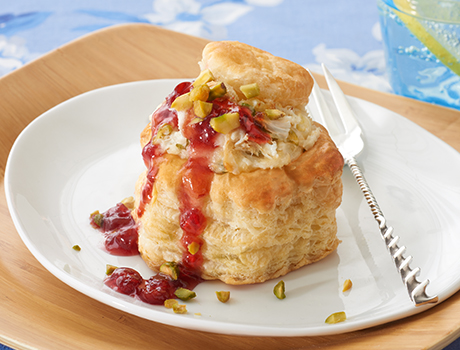 Carole's Crab Rangoon Shells
Looking for something different to serve as an appetizer?  Try these scrumptious crab filled puff pastry shells topped with a cherry-vinegar sauce.  Yes, they're different, and really delicious!
Prep:

15 minutes

Bake:

20 minutes
Recipe
Ingredients
1 can

(about 6 ounces)

refrigerated lump crabmeat, drained

4 oz.

Neufchatel cheese or light cream cheese, softened

2

green onions, thinly sliced (about 1/4 cup)

1 pkg.

(10 ounces)

Pepperidge Farm® Puff Pastry Shells

2 tsp.

apple cider vinegar

1/4 cup

pistachios, chopped
Directions
Heat the oven to 400°F. Spray a 1-quart shallow baking dish with vegetable cooking spray.

Stir the crabmeat, cheese, onions and mayonnaise in a medium bowl. Spoon the crab mixture into the baking dish. Place the pastry shells onto a baking sheet.

Bake the crab mixture and the pastry shells for 20 minutes or until the pastry shells are golden.

Heat the preserves and vinegar in a 1-quart saucepan over low heat until the mixture is warm, stirring occasionally.

Use a fork to remove the tops of the pastry shells and the soft pastry underneath. Divide the crab mixture evenly among the pastry shells. Stand the tops of the pastry shells on end in the crab mixture. Top each filled pastry shell with 2 tablespoons preserve mixture and 2 teaspoons pistachio nuts.
Watch a how-to demonstration of this recipe technique.
Watch the demo to see how to make this type of recipe, then consult your recipe for specific instructions.
Tip
Previous tip
Place Puff Pastry shells on ungreased baking sheets with "top" facing up. Place pastry shells about 2 inches apart on baking sheet.
To ensure that Puff Pastry shells will rise evenly, score the sides horizontally with a small knife.
Unfilled baked Puff Pastry shells may be stored in an airtight container at room temperature for up to 2 days.
Always bake Puff Pastry shells in a preheated 425°F oven. Do not bake shells in a microwave or a toaster oven.
Next tip
Inspiration
Green onions (or scallions) are great, raw or cooked, for adding a mild onion flavor to dishes.
On Social Media, Use

#

Puff

pastry
share your
Twist!
How do you make this recipe your own?