Sopapillas
Sopapillas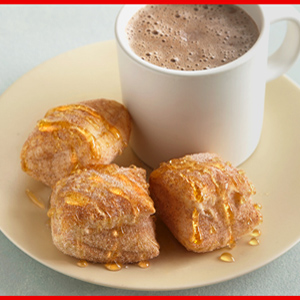 STUFFED recipe
Sometimes the simplest recipes are the best.  Give these sopapillas a try - they combine sugar, cinnamon and a drizzle of honey on crisp and flaky puff pastry squares - simply delicious!
Thaw:

40 minutes

Prep:

5 minutes

Bake:

15 minutes
Stuffed Recipe
Watch the demo to see how to make this type of recipe, then consult your recipe for specific instructions.
Tip
Previous tip
If any cracks form while you're working with Puff Pastry, just rub with a little water and press to seal the dough together.
You can brush an egg-wash glaze (1 egg plus 1 tsp. water) over the Puff Pastry to create a rich, golden sheen when baked.
Make sure the edges of your Puff Pastry are cut—a folded edge will not rise and puff.
To seal stuffed Puff Pastries, pinch the edges together or press with the tines of a fork, just as you'd seal a piecrust.
Next tip
Recipe
Ingredients
1/2 of a 17.3-ounce package Pepperidge Farm® Puff Pastry Sheets (1 sheet), thawed

3/4 cup sugar

1 tbsp. ground cinnamon

Honey
Directions
Heat the oven to 400°F.  Unfold the pastry sheet on a lightly floured surface.  Cut the pastry sheet into 25 (2-inch) squares.  Place the sugar and cinnamon into a paper bag and shake to combine.

Bake for 15 minutes or until the pastries are golden brown.  Add the hot pastries in batches to the bag and shake until coated with the sugar mixture.  Drizzle the pastries with the honey before serving.