Apple Cheddar Breakfast Strata
Apple Cheddar Breakfast Strata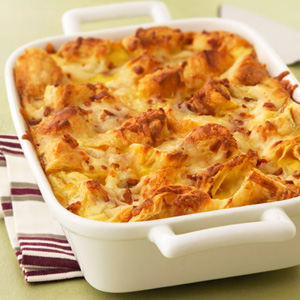 Here's a luscious breakfast idea that you'll want to wake up to - it features pieces of sweet apple turnover baked in a savory Cheddar cheese custard.  It's as easy to make as it is good!
Prep:

40 minutes

Bake:

50 minutes
No Technique
This recipe doesn't follow one of our 10 basic techniques (there are a few that are too unique!). Watch these related videos for helpful tips.
Tip
Previous tip
If you want a flaky thin and crispy pastry that's not very puffy, prick the unbaked Puff Pastry all over with a fork, which lets steam escape while baking.
When using an egg wash, be sure it doesn't run down the cut sides of the pastry, as that will make edges stick together and stop the pastry from rising.
If bubbles appear on the surface while baking Puff Pastry, prick with a fork to deflate them.
Remove only as many pastry sheets as you need. Wrap unused sheets in plastic wrap or foil and return to the freezer.
Next tip
Recipe
Ingredients
Vegetable cooking spray

2 pkg. (12.5 ounces each) Pepperidge Farm® Apple Turnovers, prepared according to package directions

2 cups milk

1 cup heavy cream

6 eggs

2 cups shredded sharp Cheddar cheese (about 8 ounces)

2 slices bacon, cooked and crumbled (about 2 tablespoons)
Directions
Heat the oven to 350°F. Spray the bottom of a 2-quart shallow baking dish with the cooking spray. Cut the prepared turnovers into pieces. Place the turnover pieces in the baking dish.

Beat the milk, cream and eggs in a large bowl with a fork or whisk. Stir the cheese and bacon in a small bowl. Pour the milk mixture over the turnover pieces. Sprinkle with the cheese mixture.

Bake for 50 minutes or until it's set.