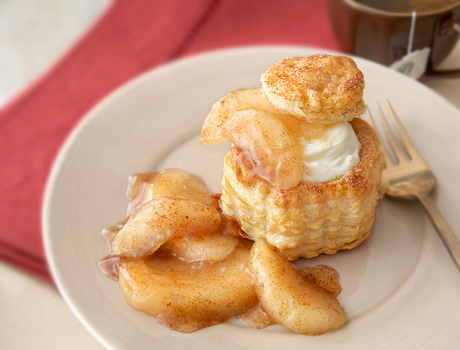 Cheesecake-Filled Apple Pie Shells
In the mood for apple pie...or is it cheesecake?  Why not have both?  This easy to make recipe combines the great flavors of both desserts in flaky puff pastry shells.  Yum!
Prep:

15 minutes

Cook:

2 minutes

Bake:

20 minutes
Recipe
Ingredients
1 pkg.

(10 ounces)

Pepperidge Farm® Puff Pastry Shells

1 can

(21 ounces)

apple pie filling

1 container

(8 ounces)

whipped cream cheese spread, softened

2 tbsp.

confectioners' sugar
Directions
Heat the oven to 425°F.  Stir 1/2 teaspoon cinnamon and the granulated sugar in a small bowl. 


Brush the top of the unbaked pastry shells with the egg.  Sprinkle with 1/2 teaspoon cinnamon mixture.  Prepare the pastry shells according to the package directions.


Stir the pie filling and remaining cinnamon in a medium microwavable bowl.  Microwave on HIGH for 1 minute or until the mixture is warm.  Stir the cream cheese, confectioners' sugar and vanilla extract in another medium bowl until the mixture is smooth.


Spoon 2 tablespoons cream cheese mixture into each pastry shell.  Top each with about 1/2 cup pie filling mixture and the pastry tops.


Recipe Note: When brushing the top of the unbaked shells with the egg, make sure that none of the egg runs over onto the sides.  This could interfere with the shell's ability to "puff" properly.
Watch a how-to demonstration of this recipe technique.
Watch the demo to see how to make this type of recipe, then consult your recipe for specific instructions.
Tip
Previous tip
Place Puff Pastry shells on ungreased baking sheets with "top" facing up. Place pastry shells about 2 inches apart on baking sheet.
To ensure that Puff Pastry shells will rise evenly, score the sides horizontally with a small knife.
Unfilled baked Puff Pastry shells may be stored in an airtight container at room temperature for up to 2 days.
Always bake Puff Pastry shells in a preheated 425°F oven. Do not bake shells in a microwave or a toaster oven.
Next tip
share your
Twist!
How do you make this recipe your own?