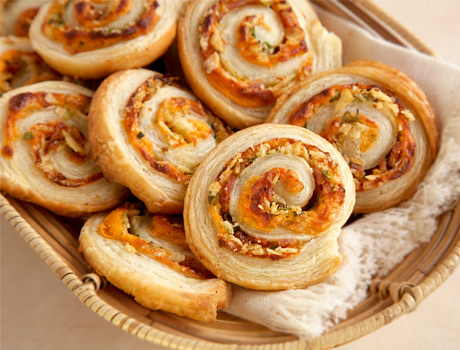 Loaded Potato Chip Spirals
Cheddar cheese, potato chips, green onions and bacon, wrapped in flaky puff pastry and baked...with these 5 ingredients, you just know these appetizers are going to be really good.
Thaw:

40 minutes

Prep:

20 minutes

Bake:

20 minutes

Chill:

15 minutes

Cool:

10 minutes
Recipe
Ingredients
1/2

of a 17.3-ounce package

Pepperidge Farm® Puff Pastry Sheets (1 sheet), thawed

1/4 cup

sharp Cheddar spreadable cheese, softened

3/4 cup

crushed

kettle cooked potato chips

2

green onions, minced (about 1/4 cup)

3 strips

bacon, cooked and crumbled
Directions
Heat the oven to 375°F.


Unfold the pastry sheet on a lightly floured surface.  Roll the pastry sheet lightly to remove the fold marks.  Spread the cheese on the pastry sheet to within 1/2 inch of the edge.  Sprinkle with the crushed chips, green onions and bacon.  Starting at a short side, roll up like a jelly roll.  Place the pastry, seam-side down, onto a baking sheet.  Refrigerate for 15 minutes or until the pastry is firm.

Cut the pastry crosswise into 20 (1/2-inch) slices.  Place the slices, cut-side down, onto 2 baking sheets.


Bake for 20 minutes or until the pastries are golden brown.  Let the pastries cool on the baking sheets on wire racks for 10 minutes.


Preparation Shortcut: Save on prep time by using store-bought fully cooked bacon in this recipe.

Serving Suggestion:  Serve with sour cream and salsa for dipping.

Time-Saving: For easy cleanup, line the baking sheets with parchment paper.
Watch a how-to demonstration of this recipe technique.
Watch the demo to see how to make this type of recipe, then consult your recipe for specific instructions.
Tip
Previous tip
Heat is the enemy of Puff Pastry—it handles best when cold. So avoid working with it on hot, humid days, in a stifling hot kitchen or next to your oven.
When serving Puff Pastry, cut with a serrated knife for the most even, attractive presentation.
Puff Pastry can puff up to 8 times its original thickness. That means even a sheet rolled to a thin ¼-inch thickness will rise 2 inches.
Use a marble pastry board to help keep Puff Pastry cold while rolling and cutting.
Next tip
Inspiration
Green onions (or scallions) are great, raw or cooked, for adding a mild onion flavor to dishes.
On Social Media, Use

#

Puff

pastry
share your
Twist!
How do you make this recipe your own?