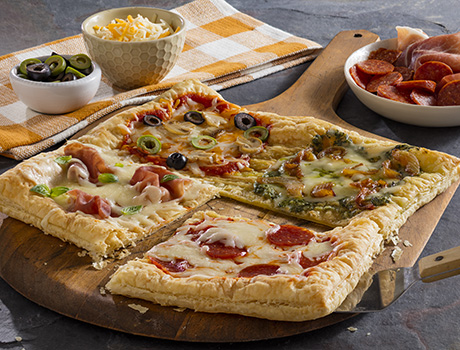 Pick-Your-Own-Topping Pizza Night
Convenient products like puff pastry sheets, prepared pizza sauce and the toppings of your choice combine to make quick and delicious pizzas customized to your tastes.
Thaw:

40 minutes

Prep:

25 minutes

Bake:

25 minutes
Recipe
Ingredients
1 pkg.

(17.3 ounces)

Pepperidge Farm® Puff Pastry Sheets, thawed

1/2 cup

Prego® Pizzeria Style Pizza Sauce

1/4 cup

prepared

basil pesto

1/2 cup

prepared

alfredo sauce

1 cup

shredded

mozzarella cheese (about 4 ounces)

1 cup

shredded

fontina cheese (about 4 ounces)

1 cup

Italian cheese blend or 4-cheese pizza cheese blend (about 4 ounces)

4 oz.

chopped

prosciutto (1/4 cup)

4 oz.

sliced

pepperoni (1/4 cup)

2 tbsp.

chopped

fresh basil leaves

1/4 cup

sliced

pitted green olive or sliced pitted ripe olive
Directions
Heat the oven to 400°F. 


Unfold 1 pastry sheet on a lightly floured surface.  Roll the pastry sheet into a 12-inch square.  Place the pastry onto a baking sheet.  Prick the pastry thoroughly with a fork.  Repeat with the remaining pastry sheet.

Bake for 15 minutes.

Spread the Sauce on each pastry to within 1/2 inch of the edge.  Sprinkle with the Cheese and Toppings.


Bake for 10 minutes or until the pastries are golden brown and the cheese is melted.

Serving Suggestion: Each pizza can also be cut into 24 small rectangles to be served as an appetizer.
Watch a how-to demonstration of this recipe technique.
Watch the demo to see how to make this type of recipe, then consult your recipe for specific instructions.
Tip
Previous tip
The kind of pan you use can affect baking times. A nonstick or dark glazed baking sheet may bake faster, so adjust your time and check pastry while baking.
If your Puff Pastry becomes soft and sticky while working with it, chill it in the fridge for a few minutes. Place in the refrigerator between rollings, too.
Always flip and place the cut side of the Puff Pastry down on the baking sheet.
You can thaw Puff Pastry in the fridge. Separate and place each sheet on a plate, cover with plastic wrap and defrost in the refrigerator for about 4 hours.
Next tip
Inspiration
When you can, use fresh basil leaves. To retain flavor, tear instead of chopping them.
On Social Media, Use

#

Puff

pastry
share your
Twist!
How do you make this recipe your own?