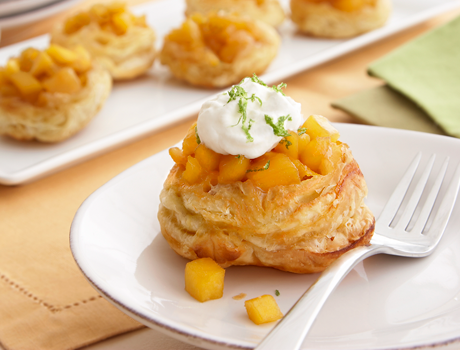 Florida Mango Mini Tarts
Enjoy a mini tropical vacation right in your own kitchen, when you serve these puff pastry tarts filled with lime-accented mango. 
Thaw:

40 minutes

Prep:

20 minutes

Cook:

5 minutes

Bake:

15 minutes
Recipe by: Campbell's Kitchen, Mango & Lime
Recipe
Ingredients
1/2

of a 17.3-ounce package

Pepperidge Farm® Puff Pastry Sheets (1 sheet), thawed

3 tbsp.

packed

brown sugar

1

large

mango, peeled, seeded and diced (about 1 1/2 cups)

1/2 cup

sweetened whipped cream or thawed frozen whipped topping
Directions
Heat the oven to 400°F.  Grate 1 1/2 teaspoons zest and squeeze 1/2 teaspoon juice from the lime.


Unfold the pastry sheet on a lightly floured surface.  Roll the pastry sheet to remove the fold marks.  Using a round cutter, cut the pastry sheet into 6 (3-inch) circles.  Place the pastry circles onto a baking sheet and refrigerate.


Heat the butter in a 1-quart saucepan over medium heat.  Add the brown sugar and lime juice and cook until the mixture boils and thickens, stirring often.  Add the mango and stir to coat.  Remove the saucepan from the heat.


Divide the mango mixture among 6 (2 1/2-inch) muffin-pan cups.  Top each with 1 pastry circle, lightly tucking the edges around the filling.


Bake for 15 minutes or until the pastries are golden brown.  Let the pastries stand in the pan for 1 minute.  Place a baking sheet on the pan.  Invert the pastries onto the baking sheet.  Top with the whipped cream and sprinkle with the lime zest.

Watch a how-to demonstration of this recipe technique.
Watch the demo to see how to make this type of recipe, then consult your recipe for specific instructions.
Tip
Previous tip
The kind of pan you use can affect baking times. A nonstick or dark glazed baking sheet may bake faster, so adjust your time and check pastry while baking.
If your Puff Pastry becomes soft and sticky while working with it, chill it in the fridge for a few minutes. Place in the refrigerator between rollings, too.
Always flip and place the cut side of the Puff Pastry down on the baking sheet.
You can thaw Puff Pastry in the fridge. Separate and place each sheet on a plate, cover with plastic wrap and defrost in the refrigerator for about 4 hours.
Next tip
Inspiration
Add a citrus-y punch to any dish with zingy, refreshing limes.
On Social Media, Use

#

Puff

pastry
share your
Twist!
How do you make this recipe your own?