Garlic Knots
Garlic Knots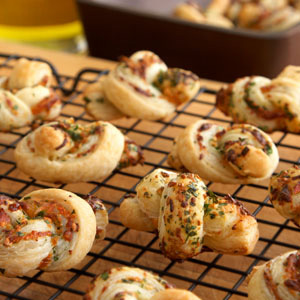 These cheesy, garlicky, puff pastry knots are the perfect complement to most any entrée.

Thaw:

40 minutes

Prep:

20 minutes

Bake:

20 minutes

Cool:

10 minutes
No Technique
This recipe doesn't follow one of our 10 basic techniques (there are a few that are too unique!). Watch these related videos for helpful tips.
Tip
Previous tip
If you want a flaky thin and crispy pastry that's not very puffy, prick the unbaked Puff Pastry all over with a fork, which lets steam escape while baking.
When using an egg wash, be sure it doesn't run down the cut sides of the pastry, as that will make edges stick together and stop the pastry from rising.
If bubbles appear on the surface while baking Puff Pastry, prick with a fork to deflate them.
Remove only as many pastry sheets as you need. Wrap unused sheets in plastic wrap or foil and return to the freezer.
Next tip
Recipe
Ingredients
1 egg

1 tbsp. water

All-purpose flour

1/2 of a 17.3-ounce package Pepperidge Farm® Puff Pastry Sheets (1 sheet), thawed

2 tbsp. minced garlic

2 tbsp. chopped fresh parsley

1/2 cup finely shredded Italian cheese blend
Directions
Heat the oven to 400°F.  Beat the egg and water in a small bowl with a fork. 


Sprinkle the flour on the work surface.  Unfold the pastry sheet on the work surface.  Roll the pastry sheet into a 10-inch square.   Brush the bottom half of the pastry sheet with the egg mixture.


Sprinkle half the garlic, parsley and cheese on the bottom half of the pastry sheet.  Fold the pastry in half over the garlic mixture.  Brush the pastry with the egg mixture.  Sprinkle the remaining garlic, parsley and cheese on the pastry.  Roll the pastry lightly with a rolling pin.  Cut the pastry into 20 (about 1/2-inch-wide) strips.  Tie each strip into a "knot".  Place the pastries onto 2 baking sheets.

Bake for 20 minutes or until the pastries are golden brown.  Let the pastries cool on the baking sheets on wire racks for 10 minutes.