Bacon, Egg and Cheese Pastry Shells
Bacon, Egg and Cheese Pastry Shells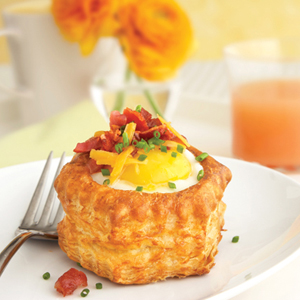 SHELLS recipe
Here's an easy, yet elegant breakfast or brunch idea that's sure to impress. Eggs are baked in puff pastry shells and then garnished with bacon, cheese and fresh chives. It's a winning combination that's guaranteed to please!

Prep:

35 minutes

Bake:

15 minutes

Cool:

5 minutes
Shells Recipe
Watch the demo to see how to make this type of recipe, then consult your recipe for specific instructions.
Tip
Previous tip
Place Puff Pastry shells on ungreased baking sheets with "top" facing up. Place pastry shells about 2 inches apart on baking sheet.
To ensure that Puff Pastry shells will rise evenly, score the sides horizontally with a small knife.
Unfilled baked Puff Pastry shells may be stored in an airtight container at room temperature for up to 2 days.
Always bake Puff Pastry shells in a preheated 425°F oven. Do not bake shells in a microwave or a toaster oven.
Next tip
Recipe
Ingredients
1 pkg. (10 ounces) Pepperidge Farm® Puff Pastry Shells, prepared according to package directions

6 large eggs

2 tbsp. shredded Cheddar Jack cheese

6 slices bacon, cooked and crumbled (about 6 tablespoons)

1 tbsp. chopped fresh chives
Directions
Heat the oven to 425°F.

Place the pastry shells onto a baking sheet.  Crack 1 egg into each pastry shell.


Bake for 15 minutes or until the eggs are set.  Top each pastry with 1 teaspoon cheese, 1 tablespoon bacon and 1/2 teaspoon chives.