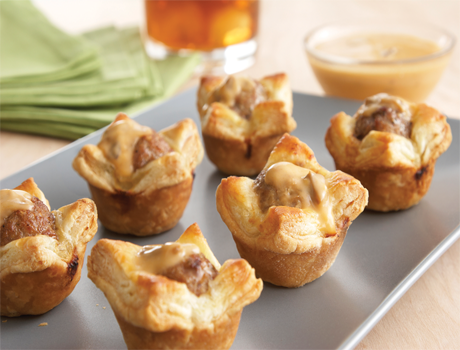 Swedish Meatball Tartlets
How adorable...these perfect little puff pastry tartlets are filled with a delicious Swedish-style meatball and topped with a flavorful mushroom sauce.  Be sure to serve these at your next party!
Thaw:

40 minutes

Prep:

20 minutes

Cook:

10 minutes

Bake:

25 minutes

Cool:

5 minutes
Recipe
Ingredients
1 lb.

ground beef, pork and veal (meatloaf mix)

3 tbsp.

seasoned dry

bread crumbs

1/3 cup

finely chopped

onion

1/2 tsp.

ground

black pepper

2 tbsp.

all-purpose flour

1 pkg.

(17.3 ounces)

Pepperidge Farm® Puff Pastry Sheets, thawed

1 can

(10 3/4 ounces)

Campbell's® Condensed Golden Mushroom Soup
Directions
Heat the oven to 375°F.  Beat 1 egg and the water in a small bowl with a fork.

Thoroughly mix the meatloaf mix, bread crumbs, onion, remaining egg, nutmeg and black pepper in a large bowl.  Shape the meat mixture into 24 (1-inch) meatballs.


Heat the oil in a 12-inch skillet over medium-high heat.  Add the meatballs and cook for 5 minutes, turning the meatballs over once halfway through the cooking time.  Drain the meatballs on paper towels.


Sprinkle the flour on the work surface.  Unfold 1 pastry sheet on the work surface.  Roll the pastry sheet into a 10-inch square.  Cut the pastry sheet into 12 (about 3 x 2 1/2-inch) rectangles. Repeat with the remaining pastry sheet.  Press the pastries into 24 (1 3/4-inch) mini muffin-pan cups.  Brush the pastry cups with the egg mixture.  Place 1 meatball into each tartlet shell.


Bake for 25 minutes or until the pastries are golden brown.  Remove the pastries from the pans and let cool on wire racks for 5 minutes.


Heat the soup and milk in a 1-quart saucepan over medium heat until the mixture is hot and bubbling, stirring occasionally.  Spoon the soup mixture over the pastries before serving.

Watch a how-to demonstration of this recipe technique.
Watch the demo to see how to make this type of recipe, then consult your recipe for specific instructions.
Tip
Previous tip
Puff Pastry fillings should be at room temperature. If they're hot, they can begin to melt the pastry layers, which will affect the pastry's ability to rise and puff.
How to tell if Puff Pastry is done baking? Take a sharp knife and nick off a teensy piece to test for crispness and flakiness.
Use a long, heavy rolling pin to roll out your Puff Pastry dough: it helps create a pastry that's even all over and you won't have to press down too hard to roll it out.
You can bake Puff Pastry on a baking sheet lined with parchment paper. For a more even rise, place a sheet of parchment paper on top of your pastry as well.
Next tip
share your
Twist!
How do you make this recipe your own?