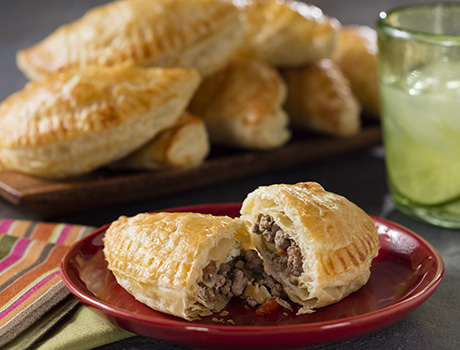 Empanadas de Carne de Res
Tired of toting the same old casserole to your monthly potluck?  Bake up a fresh batch of Argentinian-style empanadas for a change of pace.  Flaky pastry surrounding onion and garlic seasoned beef will capture everyone's attention and have them scrambling to grab the last one! 
Thaw:

40 minutes

Prep:

20 minutes

Cook:

15 minutes

Bake:

15 minutes

Cool:

10 minutes
Recipe
Ingredients
1

small

onion, chopped (about 1/4 cup)

1/4 cup

chopped pimiento-stuffed

olives

1

hard cooked egg, peeled and chopped

2 tbsp.

all-purpose flour

1 pkg.

(17.3 ounces)

Pepperidge Farm® Puff Pastry Sheets, thawed
Directions
Heat the oil in a 10-inch skillet over medium-high heat.  Add the onion and cook for 2 minutes, stirring occasionally.  Add the beef and cook until well browned, stirring often to separate meat.  Pour off any fat.  Stir in the olives, raisins, hard-cooked egg and garlic.  Season with the salt.  Remove the skillet from the heat and let the beef mixture cool.


Heat the oven to 350°F.  Line a baking sheet with parchment paper.  Beat the uncooked egg in a small bowl with a fork. 


Sprinkle the flour on the work surface.  Unfold 1 pastry sheet on the work surface.  Roll the pastry sheet into a 10-inch square.  Using a round cutter, cut the pastry  into 4 (5-inch) circles.  Repeat with the remaining pastry sheet.


Spoon about 2 tablespoons beef mixture in the center of each pastry circle.  Fold the pastry over the filling and press the edges to seal.  Crimp the edges with a fork.  Using a sharp knife, cut small slits in the tops of the pastries.  Place the pastries onto the baking sheet.  Brush the pastries with the uncooked egg.


Bake for 15 minutes or until the pastries are golden brown.  Let the pastries cool on the baking sheet on a wire rack for 10 minutes.

Watch a how-to demonstration of this recipe technique.
Watch the demo to see how to make this type of recipe, then consult your recipe for specific instructions.
Tip
Previous tip
If any cracks form while you're working with Puff Pastry, just rub with a little water and press to seal the dough together.
You can brush an egg-wash glaze (1 egg plus 1 tsp. water) over the Puff Pastry to create a rich, golden sheen when baked.
Make sure the edges of your Puff Pastry are cut—a folded edge will not rise and puff.
To seal stuffed Puff Pastries, pinch the edges together or press with the tines of a fork, just as you'd seal a piecrust.
Next tip
share your
Twist!
How do you make this recipe your own?