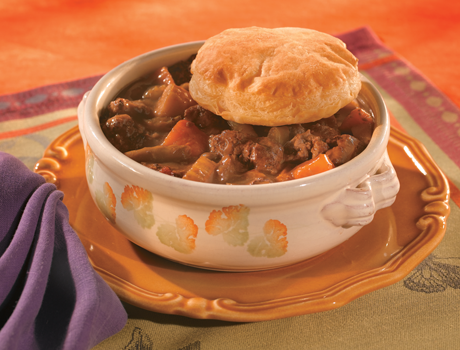 Pastry-Topped Beef Stew
Brimming with beef and vegetables, this rustic and savory stew is especially enticing because it's topped with a flaky puff pastry round.
Thaw:

40 minutes

Prep:

15 minutes

Cook:

40 minutes

Bake:

10 minutes
Recipe
Ingredients
4 tbsp.

all-purpose flour

1/2

of a 17.3-ounce package

Pepperidge Farm® Puff Pastry Sheets  (1 sheet), thawed according to package directions

1 1/2

pounds

boneless beef top round steaks, cut into 1-inch pieces

1 can

(18.6 ounces)

Campbell's® Minestrone Soup

1/2 cup

Swanson® Beef Broth
Directions
Heat the oven to 425°F. Sprinkle the work surface with half the flour. Unfold the pastry sheet on the floured surface. Cut the pastry into 4 (4-inch) circles with a cutter. Place the pastry circles onto a baking sheet.

Bake for 10 minutes or until the pastry circles are golden brown.

Season the beef as desired. Coat the beef with the remaining flour.

Heat the oil in a 6-quart saucepot over medium-high heat. Add the beef in 2 batches and cook until it's well browned, stirring often. Pour off any fat.

Stir the soup and broth in the saucepot and heat to a boil. Reduce the heat to medium. Cook for 15 minutes or until the beef is cooked through and the sauce is thickened.

Divide the stew among 4 serving bowls. Top each with 1 pastry circle.

Recipe Note: The puff pastry circles and the stew can be stored separately for up to 2 days. Refrigerate the stew in a tightly sealed container. Place the pastry circles in a resealable plastic bag and store at room temperature. To reheat the stew, stir the stew and 1/4 cup water in a saucepan and cook until the mixture is hot and bubbling.
Watch a how-to demonstration of this recipe technique.
Watch the demo to see how to make this type of recipe, then consult your recipe for specific instructions.
Tip
Previous tip
A lattice pattern can be created by topping the Puff Pastry with a metal cooling rack, then turning it at a right angle halfway through the baking.
When cutting Puff Pastry, the sharper the knife or pastry cutter, the better. A dull edge can cement layers together and prevent pastry from rising.
To create a tart with an extra puffy crust: take a knife and score two lines around the edge, then prick the area inside this border with a fork.
Puff Pastry can be stored in the freezer in the original packaging for up to 6 months.
Next tip
share your
Twist!
How do you make this recipe your own?