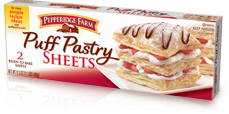 Frozen Sheets Pastry Dough
Each Puff Pastry sheet is made up of many delicate layers, each one essential to creating its supremely light, airy texture. Sheets are ready to be shaped, filled and baked.
Frozen Cups Pastry Dough
Puff Pastry Cups rise into light, flaky pastry cups ready for filling. They are an easy and convenient way to create flavorful, bite size appetizers and desserts. Perfect for entertaining!
Frozen Shells Pastry Dough
Sweet or savory? You decide. Simply bake our shells, add your favorite fillings and enjoy!