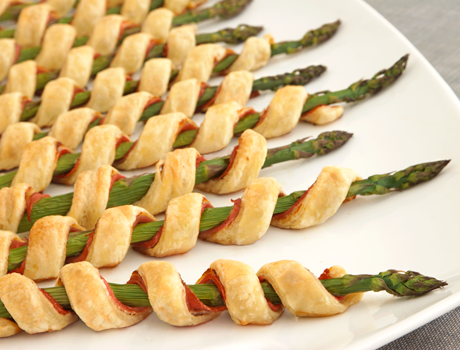 Prosciutto Asparagus Spirals
Easy to prepare, but oh so elegant...these tempting appetizers feature asparagus spears individually wrapped with prosciutto, garlic & herb cheese and flaky puff pastry.
Thaw:

40 minutes

Prep:

15 minutes

Bake:

15 minutes
Recipe
Ingredients
1 pkg.

(17.3 ounces)

Pepperidge Farm® Puff Pastry Sheets, thawed

6 tbsp.

spreadable garlic & herb cheese, softened

8 slices

prosciutto or thinly sliced deli ham

30

medium

asparagus spears, trimmed
Directions
Heat the oven to 400°F.  Unfold the pastry sheets on a lightly floured surface.  Spread 3 tablespoons cheese on each pastry sheet.  Top each with 4 slices prosciutto. Cut each into 15 strips crosswise, making 30 in all.

Tightly wrap 1 pastry strip around each asparagus spear, prosciutto-side in.  Place the pastries seam-side down onto 2 baking sheets.

Bake for 15 minutes or until the pastries are golden brown.
Watch a how-to demonstration of this recipe technique.
Watch the demo to see how to make this type of recipe, then consult your recipe for specific instructions.
Tip
Previous tip
Don't try to manipulate Puff Pastry that's not completely thawed; unfolding it while it's still frozen could tear the sheet.
When cutting Puff Pastry, the sharper the knife or pastry cutter, the better. A dull edge can cement layers together and prevent pastry from rising.
Try to keep Puff Pastry from becoming too warm when working with it by only using your fingertips—the coolest part of your hands.
Use an egg wash to help seal filled pastries and connect Puff Pastry pieces: mix 1 egg plus 1 tsp. water, brush between layers, then pinch or press together.
Next tip
share your
Twist!
How do you make this recipe your own?