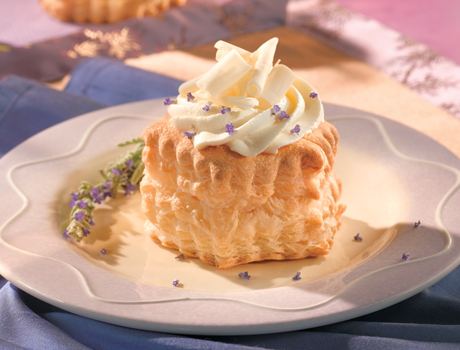 Mascarpone Cream-Filled Shells with Cranberry Compote
Looking for a special dessert to showcase your elegant style?  Try these festive, bakery-style pastries that use puff pastry shells for great taste, presentation and convenience.
Prep:

45 minutes

Cook:

20 minutes

Bake:

10 minutes

Cool:

30 minutes
Recipe
Ingredients
1 pkg.

(10 ounces)

Pepperidge Farm® Puff Pastry Shells

4 tbsp.

raw sugar (turbinado sugar)

1 tsp.

unflavored

gelatin

2 (2-inch) pieces

orange zest

2 cups

frozen

or

fresh

cranberries

1/2 cup

pistachio, coarsely chopped

Mascarpone Cream
Directions
Brush the rims of the frozen pastry shells with the egg white and sprinkle with 2 tablespoons raw sugar.  Prepare the pastry shells according to the package directions.

Pour the water into a small cup.  Sprinkle the gelatin over the water and let stand for 5 minutes.

Lay a 4-inch square of cheesecloth flat on the counter.  Place the orange zest, star anise, cloves and cinnamon stick in the center of the cloth. Bring the corners of the cloth together and tie with kitchen string into a bundle.

Place the spice bundle into a 1-quart saucepan.  Stir in the wine and granulated sugar and heat over medium-high heat to a boil.  Reduce the heat to low.  Cook for 5 minutes, stirring occasionally.  Add the cranberries and cook until the cranberries burst.  Remove and discard the spice bundle.  Stir in the gelatin mixture.  Let the cranberry mixture cool to room temperature.


Heat the oven to 300°F.  Place the pistachios into a small bowl.  Add the corn syrup and stir to coat.  Add the remaining raw sugar and toss to coat.  Spread the pistachio mixture in a single layer on a parchment-lined baking sheet.  Bake for 10 minutes or until the pistachios are golden brown.

Pipe or spoon the Mascarpone Cream into the pastry shells. Top with the cranberry compote and sprinkle with the pistachios.

Mascarpone Cream:  Beat 4 ounces mascarpone cheese, softened, 1/2 cup heavy cream, 1 tablespoon granulated sugar, 1/4 teaspoon vanilla extract, 1/2 teaspoon grated orange zest, vanilla seeds scraped from a 1-inch piece vanilla bean and 1 teaspoon Grand Marnier in a large bowl with an electric mixer on low speed until combined.  Increase the speed to high and beat until stiff peaks form.

Make-Ahead: The cranberry compote can be prepared up to one week in advance.  The Mascarpone Cream can be prepared up to 4 hours in advance and stored in the refrigerator.
Watch a how-to demonstration of this recipe technique.
Watch the demo to see how to make this type of recipe, then consult your recipe for specific instructions.
Tip
Previous tip
Place Puff Pastry shells on ungreased baking sheets with "top" facing up. Place pastry shells about 2 inches apart on baking sheet.
To ensure that Puff Pastry shells will rise evenly, score the sides horizontally with a small knife.
Unfilled baked Puff Pastry shells may be stored in an airtight container at room temperature for up to 2 days.
Always bake Puff Pastry shells in a preheated 425°F oven. Do not bake shells in a microwave or a toaster oven.
Next tip
share your
Twist!
How do you make this recipe your own?