Mini Puff Cheesecakes
Mini Puff Cheesecakes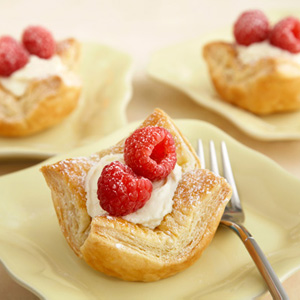 CUPS recipe
Sometimes, big desserts are just too much...so we've created these easy-to-make, individually-sized cheesecakes with a puff pastry crust.  Now everyone can enjoy this luscious dessert.
Thaw:

40 minutes

Prep:

20 minutes

Bake:

10 minutes

Chill:

10 minutes

Cool:

15 minutes
Cups Recipe
Watch the demo to see how to make this type of recipe, then consult your recipe for specific instructions.
Tip
Previous tip
Puff Pastry fillings should be at room temperature. If they're hot, they can begin to melt the pastry layers, which will affect the pastry's ability to rise and puff.
How to tell if Puff Pastry is done baking? Take a sharp knife and nick off a teensy piece to test for crispness and flakiness.
Use a long, heavy rolling pin to roll out your Puff Pastry dough: it helps create a pastry that's even all over and you won't have to press down too hard to roll it out.
You can bake Puff Pastry on a baking sheet lined with parchment paper. For a more even rise, place a sheet of parchment paper on top of your pastry as well.
Next tip
Recipe
Ingredients
1/2 of a 17.3-ounce package Pepperidge Farm® Puff Pastry Sheets (1 sheet), thawed

1 egg, beaten

3/4 cup cream cheese, softened

3 tbsp. confectioners' sugar

1/2 tsp. vanilla extract

1/2 cup thawed frozen whipped topping

36 fresh raspberries or semi-sweet chocolate pieces
Directions
Heat the oven to 375°F. 


Unfold the pastry sheet on a lightly floured surface.  Roll the pastry sheet into an 18x9-inch rectangle.  Cut into 18 (3-inch) squares.  Press the pastry squares into 18 muffin-pan cups.  Brush the edges of the pastries with the egg.  Prick the centers of the pastries with a fork.


Bake for 10 minutes or until the pastries are golden brown.  Using the back of a spoon, press down the centers of the hot pastries to make an indentation.  Let the pastries cool in the pans on wire racks for 5 minutes.  Remove the pastry cups from the pans and let cool completely on wire racks.


Beat the cream cheese in a medium bowl with an electric mixer on medium speed until smooth.  Beat in the confectioners' sugar and vanilla extract.  Fold in the whipped topping.


Spoon about 1 tablespoon cream cheese mixture into each pastry cup.  Refrigerate for 10 minutes or until the filling is firm.  Top each pastry with 2 raspberries.  Sprinkle with additional confectioners' sugar, if desired.