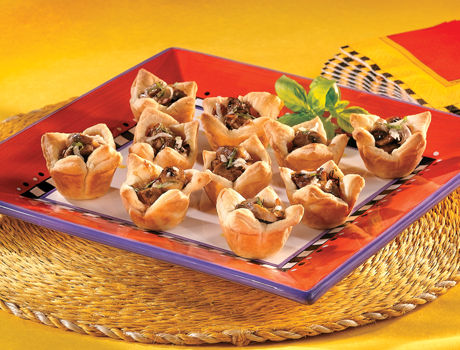 Basil-Mushroom Tartlets
These savory appetizers will satisfy the most discriminating guest...the flavor of the mushrooms is highlighted with subtle hints of garlic, Parmesan cheese and basil, all tucked into a puff pastry tartlet.
Thaw:

40 minutes

Prep:

30 minutes

Bake:

15 minutes

Cool:

10 minutes
Recipe
Ingredients
1/2

of a 17.3-once package

Pepperidge Farm® Puff Pastry Sheets (1 sheet), thawed

3 cups

mushrooms, cut into quarters

1

small

onion, chopped (about 1/4 cup)

2 tbsp.

grated

Parmesan cheese

1 tsp.

dried

basil leaves, crushed or 1 tablespoon chopped fresh basil leaves
Directions
Heat the oven to 400°F.

Heat the butter in a 10-inch skillet over medium heat. Add the mushrooms, onion and garlic and cook until tender and the liquid is evaporated.  Remove the skillet from the heat. Stir in the cheese and basil.

Unfold the pastry sheet on a lightly floured surface. Roll the pastry sheet into a 15x12-inch rectangle. Cut into 20 (3-inch) squares. Press the squares into 20 (1 1/2-inch) mini muffin-pan cups.  Place about 1 tablespoon filling into each square.

Bake for 15 minutes or until the pastries are golden brown. Let the pastries cool in the pan on a wire rack for 10 minutes.
Watch a how-to demonstration of this recipe technique.
Watch the demo to see how to make this type of recipe, then consult your recipe for specific instructions.
Tip
Previous tip
Puff Pastry fillings should be at room temperature. If they're hot, they can begin to melt the pastry layers, which will affect the pastry's ability to rise and puff.
How to tell if Puff Pastry is done baking? Take a sharp knife and nick off a teensy piece to test for crispness and flakiness.
Use a long, heavy rolling pin to roll out your Puff Pastry dough: it helps create a pastry that's even all over and you won't have to press down too hard to roll it out.
You can bake Puff Pastry on a baking sheet lined with parchment paper. For a more even rise, place a sheet of parchment paper on top of your pastry as well.
Next tip
Inspiration
When you can, use fresh basil leaves. To retain flavor, tear instead of chopping them.
On Social Media, Use

#

Puff

pastry
share your
Twist!
How do you make this recipe your own?