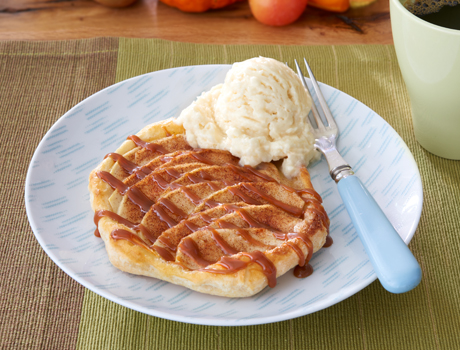 Apple or Pear Fruit Tarts
This delectable dessert uses puff pastry shells to easily make pear or apple pastries drizzled with prepared caramel topping and served with vanilla ice cream.
Thaw:

40 minutes

Prep:

20 minutes

Bake:

25 minutes
Recipe
Ingredients
1 pkg.

(10 ounces)

Pepperidge Farm® Puff Pastry Shells

3

large

apples or pears, peeled and thinly sliced (about 4 cups)

2/3 cup

caramel topping, warmed (optional)
Directions
Thaw the pastry shells at room temperature for 40 minutes. Heat the oven to 375°F.  Stir the sugar, cinnamon and ginger in a small bowl.

Roll each pastry shell into a 5-inch circle on a lightly floured surface.  Place the pastry circles onto 2 baking sheets. Arrange about 2/3 cup apple slices on each pastry circle, overlapping the slices. Sprinkle each with about 1 tablespoon sugar mixture.

Bake for 25 minutes or until the pastries are golden brown. Drizzle with the caramel topping, if desired.  Serve the pastries with the ice cream.
Watch a how-to demonstration of this recipe technique.
Watch the demo to see how to make this type of recipe, then consult your recipe for specific instructions.
Tip
Previous tip
Place Puff Pastry shells on ungreased baking sheets with "top" facing up. Place pastry shells about 2 inches apart on baking sheet.
To ensure that Puff Pastry shells will rise evenly, score the sides horizontally with a small knife.
Unfilled baked Puff Pastry shells may be stored in an airtight container at room temperature for up to 2 days.
Always bake Puff Pastry shells in a preheated 425°F oven. Do not bake shells in a microwave or a toaster oven.
Next tip
Inspiration
Juicy pears come in many varieties. Make sure to eat the skin – it's especially high in nutrients.
On Social Media, Use

#

Puff

pastry
share your
Twist!
How do you make this recipe your own?