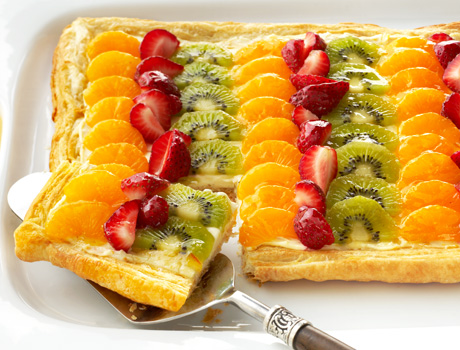 Citrus Fruit Tart
Have you been asked to bring a dessert?  Here's the recipe for you...it's easy to make, but it looks and tastes like it's from a fancy bakery.
Thaw:

40 minutes

Prep:

30 minutes

Bake:

15 minutes

Cool:

10 minutes
Recipe
Ingredients
2 tbsp.

all-purpose flour

1/2

of a 17.3-ounce package

Pepperidge Farm® Puff Pastry Sheets  (1 sheet), thawed

1 pkg.

(8 ounces)

cream cheese, softened

2 cups

quartered

strawberries

1 can

(15 ounces)

mandarin oranges in light syrup, drained

2

kiwis, peeled, cut in half and sliced

1/2 cup

apricot preserves, warmed
Directions
Heat the oven to 400°F.  Grate 2 teaspoons zest and squeeze 2 tablespoons juice from the orange.

Sprinkle the flour on the work surface.  Unfold the pastry sheet on the work surface.  Roll the pastry sheet into a 14x10-inch rectangle and place onto a baking sheet.  Brush the edge of the pastry with water.  Fold over the edges 1/2 inch on all sides, pressing firmly to form a rim.  Prick the center of the pastry thoroughly with a fork (this is called docking the pastry- it lets the steam escape during baking so the crust doesn't bubble up).

Bake for 15 minutes or until the pastry is golden brown.  Let the pastry cool on the baking sheet for 10 minutes (you'll want the pastry cooled so the cream cheese mixture spread on in the next step won't become runny).

Stir the cream cheese, sugar, orange juice and orange zest in a medium bowl until the mixture is smooth.  Spread the cream cheese mixture on the pastry.  Arrange the strawberries, mandarin oranges and kiwis on the cream cheese mixture.  Brush the fruit with the preserves.

Make-Ahead: This tart can be served immediately or covered and refrigerated for up to 4 hours.

For a strawberry-topped tart, omit the mandarin oranges and kiwi and slice the strawberries instead of cutting them in quarters.
Watch a how-to demonstration of this recipe technique.
Watch the demo to see how to make this type of recipe, then consult your recipe for specific instructions.
Tip
Previous tip
The kind of pan you use can affect baking times. A nonstick or dark glazed baking sheet may bake faster, so adjust your time and check pastry while baking.
If your Puff Pastry becomes soft and sticky while working with it, chill it in the fridge for a few minutes. Place in the refrigerator between rollings, too.
Always flip and place the cut side of the Puff Pastry down on the baking sheet.
You can thaw Puff Pastry in the fridge. Separate and place each sheet on a plate, cover with plastic wrap and defrost in the refrigerator for about 4 hours.
Next tip
share your
Twist!
How do you make this recipe your own?