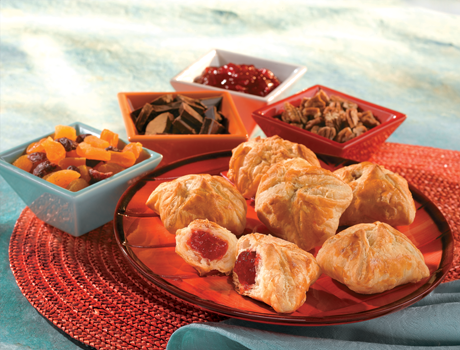 Dessert Mini Wraparounds
Keep these bite-size sweets in the cookie jar. So easy to make—just wrap puff pastry around whatever ingredients you have on hand, from jam or dried fruit to chopped peanut butter cups to caramels, and bake.
Thaw:

40 minutes

Prep:

20 minutes

Bake:

15 minutes

Cool:

10 minutes
Recipe
Ingredients
1 pkg.

(17.3 ounces)

Pepperidge Farm® Puff Pastry Sheets, thawed

5 1/2 oz.

(about 2/3 cup)

seedless raspberry jam
Directions
Heat the oven to 400°F.  Beat the egg and water in a small bowl with a fork or whisk.

Unfold 1 pastry sheet on a lightly floured surface.  Roll the pastry sheet into a 12-inch square.  Cut into 16 (3-inch) squares.  Repeat with the remaining pastry sheet.  Place 1 teaspoon jam in the center of each square.  Brush the edges of the squares with the egg mixture. Fold 2 opposite corners to the center over the filling and pinch the edges firmly to seal. Place the filled pastries onto baking sheets.

Bake for 15 minutes or until the pastries are golden brown.  Remove the pastries from the baking sheets and let cool on wire racks for 10 minutes.

Easy Substitution:  You can substitute preserves, peanut butter, chocolate pieces, chopped dried fruit, chopped nuts, chopped mini chocolate peanut butter cups or soft caramel candies for the raspberry jam in this recipe.
Watch a how-to demonstration of this recipe technique.
Watch the demo to see how to make this type of recipe, then consult your recipe for specific instructions.
Tip
Previous tip
If any cracks form while you're working with Puff Pastry, just rub with a little water and press to seal the dough together.
You can brush an egg-wash glaze (1 egg plus 1 tsp. water) over the Puff Pastry to create a rich, golden sheen when baked.
Make sure the edges of your Puff Pastry are cut—a folded edge will not rise and puff.
To seal stuffed Puff Pastries, pinch the edges together or press with the tines of a fork, just as you'd seal a piecrust.
Next tip
Inspiration
Top any dessert with shaved chocolate for a gorgeous presentation.
On Social Media, Use

#

Puff

pastry
share your
Twist!
How do you make this recipe your own?