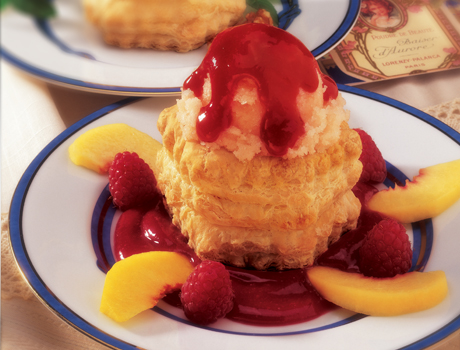 Peach Sorbet Melba
This version of peach Melba is sure to please every one with its light fruit sorbet and a spoon of raspberry sauce in individual puff pastry shells.
Prep:

35 minutes

Cook:

10 minutes

Cool:

20 minutes
Recipe
Ingredients
1 pkg.

(10 ounces)

frozen raspberries

1 pt.

peach sorbet or raspberry or strawberry sorbet or sherbet (about 2 cups)

1 pkg.

(10 ounces)

Pepperidge Farm® Puff Pastry Shells, prepared according to package directions

1 can

(16 ounces) sliced

canned peaches in light syrup, drained
Directions
Stir the sugar, cornstarch, water and raspberries in a 1-quart saucepan.  Cook and stir until the mixture boils and thickens. Remove the saucepan from the heat.  Pour the raspberry mixture through a sieve into a medium bowl.  Let the raspberry mixture cool to room temperature.

Spread about 1 tablespoon raspberry mixture onto each of 6 dessert plates.  Spoon the sorbet into the pastry shells.  Divide the peach slices among the plates.  Spoon the remaining raspberry mixture over the sorbet.

Easy Substitution: You can substitute 4 medium peaches, peeled, pitted and sliced (about 2 cups) tossed with 1 teaspoon lemon juice and 1 tablespoon sugar for the canned peaches.
Watch a how-to demonstration of this recipe technique.
Watch the demo to see how to make this type of recipe, then consult your recipe for specific instructions.
Tip
Previous tip
Place Puff Pastry shells on ungreased baking sheets with "top" facing up. Place pastry shells about 2 inches apart on baking sheet.
To ensure that Puff Pastry shells will rise evenly, score the sides horizontally with a small knife.
Unfilled baked Puff Pastry shells may be stored in an airtight container at room temperature for up to 2 days.
Always bake Puff Pastry shells in a preheated 425°F oven. Do not bake shells in a microwave or a toaster oven.
Next tip
share your
Twist!
How do you make this recipe your own?