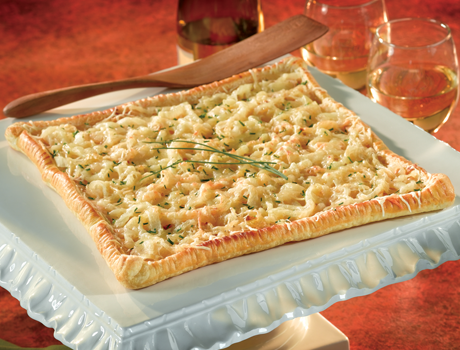 Caramelized Onion Tart
Slowly cooking sweet onions until golden creates a sophisticated filling between the flaky puff pastry crust and the smooth Gruyère and Parmesan cheese topping.
Thaw:

40 minutes

Prep:

15 minutes

Cook:

15 minutes

Bake:

20 minutes

Cool:

15 minutes
Recipe
Ingredients
1

large sweet

onion, thinly sliced

as needed

all-purpose flour

1/2

of a 17.3-ounce package

Pepperidge Farm® Puff Pastry Sheets (1 sheet), thawed

1 1/2 cups

shredded

Gruyère cheese or Swiss cheese (about 6 ounces)

2 tbsp.

chopped fresh

chives
Directions
Heat the oven to 400°F.  Line a baking sheet with parchment paper.

Heat the oil in a 12-inch skillet over medium heat. Add the onion and cook for 15 minutes or until well browned, stirring often.  Remove the skillet from the heat and let cool to room temperature.

Sprinkle the work surface with the flour.  Unfold the pastry sheet on the work surface.  Roll the pastry sheet into a 12-inch square.  Place the pastry onto the baking sheet.  Brush the edges of the pastry with water.  Fold over the edges 1/2 inch on all sides, crimping with a fork to form a rim.  Prick the center of the pastry thoroughly with a fork.

Spread the onion mixture on the pastry to the rim.  Sprinkle with the cheeses and chives.

Bake for 20 minutes or until the pastry is golden brown.  Let the pastry cool on the baking sheet on a wire rack for 5 minutes.  Cut into 24 (3x2-inch) rectangles.  Serve warm.

Recipe Note: Parchment paper keeps the pastry from sticking to the baking sheet and also makes for easier cleanup. If you don't have parchment paper, you can spray the baking sheet with cooking spray instead. However, cooking spray may cause the bottoms of the pastries to brown more quickly, so begin checking for doneness 5 minutes early.
Watch a how-to demonstration of this recipe technique.
Watch the demo to see how to make this type of recipe, then consult your recipe for specific instructions.
Tip
Previous tip
The kind of pan you use can affect baking times. A nonstick or dark glazed baking sheet may bake faster, so adjust your time and check pastry while baking.
If your Puff Pastry becomes soft and sticky while working with it, chill it in the fridge for a few minutes. Place in the refrigerator between rollings, too.
Always flip and place the cut side of the Puff Pastry down on the baking sheet.
You can thaw Puff Pastry in the fridge. Separate and place each sheet on a plate, cover with plastic wrap and defrost in the refrigerator for about 4 hours.
Next tip
share your
Twist!
How do you make this recipe your own?