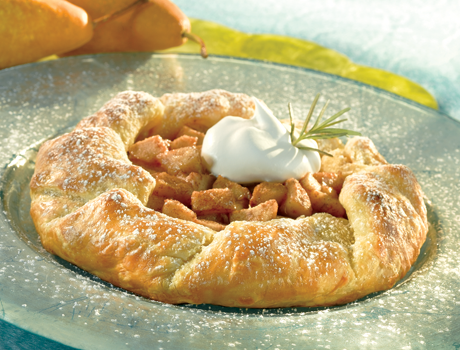 Pear & Honey Croustade
The free-form puff pastry crust makes this rustic fruit "pie" very easy to make.  It only takes 15 minutes to put together, but the results are absolutely delicious.
Thaw:

40 minutes

Prep:

15 minutes

Bake:

20 minutes

Cool:

20 minutes
Recipe
Ingredients
2

Bosc

pears, peeled and coarsely chopped (about 3 cups)

1/2

of a 17.3-ounce package

Pepperidge Farm® Puff Pastry Sheets (1 sheet), thawed

2 tbsp.

confectioners' sugar

1/2 cup

sweetened whipped cream
Directions
Heat the oven to 400°F.  Beat the egg and water in a small bowl with a fork.

Stir the cornstarch, granulated sugar and cinnamon in a medium bowl.  Stir in the honey.  Add the pears and toss to coat.

Sprinkle the work surface with confectioners' sugar.  Unfold the pastry sheet on the sugar.  Roll the sheet into a 12 x 10-inch rectangle.  Place the pastry rectangle, sugar-side down, onto a baking sheet.

Spoon the pear mixture into the center of the pastry sheet to within 2 inches of the edge.  Lift the edge of the pastry in sections and fold it up over the pears, loosely folding each section over the next.  Brush the pastry with the egg mixture.

Bake for 20 minutes or until the pastry is golden brown.  Let the croustade cool for 20 minutes on the baking sheet on a wire rack.  Sprinkle with additional confectioners' sugar, if desired.  Serve warm with the whipped cream.
Watch a how-to demonstration of this recipe technique.
Watch the demo to see how to make this type of recipe, then consult your recipe for specific instructions.
Tip
Previous tip
The kind of pan you use can affect baking times. A nonstick or dark glazed baking sheet may bake faster, so adjust your time and check pastry while baking.
If your Puff Pastry becomes soft and sticky while working with it, chill it in the fridge for a few minutes. Place in the refrigerator between rollings, too.
Always flip and place the cut side of the Puff Pastry down on the baking sheet.
You can thaw Puff Pastry in the fridge. Separate and place each sheet on a plate, cover with plastic wrap and defrost in the refrigerator for about 4 hours.
Next tip
Inspiration
Juicy pears come in many varieties. Make sure to eat the skin – it's especially high in nutrients.
On Social Media, Use

#

Puff

pastry
share your
Twist!
How do you make this recipe your own?