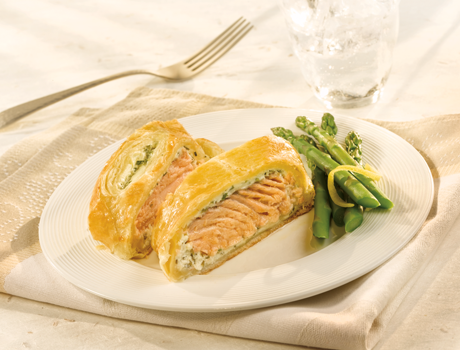 Salmon & Herb Strudel
Company coming?  Try this elegant strudel that's as easy to make as it is good.  In fact, it's so tasty and delicious, you'll want to make it for the family too.
Thaw:

40 minutes

Prep:

20 minutes

Bake:

20 minutes

Stand:

5 minutes
Recipe
Ingredients
8 oz.

(1 package)

light cream cheese

1/4 cup

chopped fresh

chives

1/4 cup

chopped

fresh parsley

1 tbsp.

grated

lemon zest

1 dash

ground

black pepper

1/2

of a 17.3-ounce package

Pepperidge Farm® Puff Pastry Sheets (1 sheet), thawed

12 oz.

(about 2 fillets)

salmon fillets
Directions
Heat the oven to 375°F.  Beat 1 egg and the water in a small bowl with a fork.

Separate the remaining egg. Discard the egg white.  Place the egg yolk into a small bowl. Stir in the cream cheese, chives, parsley and lemon zest.  Season with the black pepper.

Unfold the pastry sheet on a lightly floured surface.  With the short side facing you, spread the cream cheese mixture on the bottom third of the pastry to within 1 inch of the edges.  Top with the salmon.  Brush the edges with the egg mixture.  Starting at the short side closest to you, roll up like a jelly roll.  Place seam-side down on the baking sheet.  Tuck the ends under to seal.  Brush the pastry with the egg mixture.  Cut several slits in the pastry top.

Bake for 20 minutes or until the pastry is golden brown.  Let the strudel cool on the baking sheet on a wire rack for 5 minutes.

Salmon Asparagus Strudel: Top the salmon with about 8 tender-crisp cooked asparagus spears.  Roll up as directed above.

Serving Suggestion: Serve with sautéed thin (haricot vert) green beans. For dessert serve Napoleon pastries.
Watch a how-to demonstration of this recipe technique.
Watch the demo to see how to make this type of recipe, then consult your recipe for specific instructions.
Tip
Previous tip
Heat is the enemy of Puff Pastry—it handles best when cold. So avoid working with it on hot, humid days, in a stifling hot kitchen or next to your oven.
When serving Puff Pastry, cut with a serrated knife for the most even, attractive presentation.
Puff Pastry can puff up to 8 times its original thickness. That means even a sheet rolled to a thin ¼-inch thickness will rise 2 inches.
Use a marble pastry board to help keep Puff Pastry cold while rolling and cutting.
Next tip
share your
Twist!
How do you make this recipe your own?