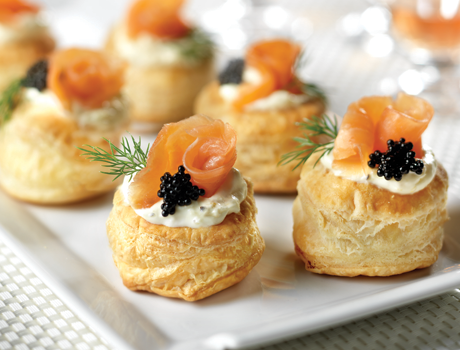 Smoked Salmon Blini Puffs
These caterer-style appetizers are so easy to make.  Simple yet sophisticated...it just doesn't get any better than this!
Thaw:

40 minutes

Prep:

20 minutes

Bake:

12 minutes

Cool:

10 minutes
Recipe
Ingredients
1 1/2 tsp.

grated

lemon zest

1/8 tsp.

freshly ground

black pepper

1/2

of a 17.3-ounce package

Pepperidge Farm® Puff Pastry Sheets (1 sheet), thawed

1 ea.

of a 4-ounce package thinly sliced

smoked salmon, cut into 12 pieces

12 sprigs

fresh dill weed

3 tsp.

black

caviar, tobiko or salmon roe (optional)
Directions
Heat the oven to 400°F.  Stir the crème fraîche, lemon zest and black pepper in a small bowl.


Unfold the pastry sheet on a lightly floured surface.  Using a round cutter, cut the pastry sheet into 12 (2-inch) circles.  Place the pastry circles onto a baking sheet.  Prick the pastry circles thoroughly with a fork.

Bake for 12 minutes or until the pastries are golden brown.  Let the pastries cool on the baking sheet for 10 minutes.


Spoon 2 teaspoons crème fraîche mixture on each pastry.  Top each with 1 piece salmon and 1 sprig dill.  Top with the caviar, if desired. 


Recipe Note: Customize the recipe by cutting the pastry into shapes other than circles.  Try stars or hearts- just make sure that the cutter measures about 2 inches across.
Watch a how-to demonstration of this recipe technique.
Watch the demo to see how to make this type of recipe, then consult your recipe for specific instructions.
Tip
Previous tip
The kind of pan you use can affect baking times. A nonstick or dark glazed baking sheet may bake faster, so adjust your time and check pastry while baking.
If your Puff Pastry becomes soft and sticky while working with it, chill it in the fridge for a few minutes. Place in the refrigerator between rollings, too.
Always flip and place the cut side of the Puff Pastry down on the baking sheet.
You can thaw Puff Pastry in the fridge. Separate and place each sheet on a plate, cover with plastic wrap and defrost in the refrigerator for about 4 hours.
Next tip
share your
Twist!
How do you make this recipe your own?