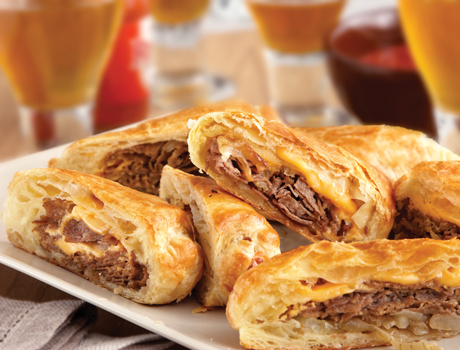 Philly Cheesesteak Rolls
These upscale cheesesteak sandwiches feature flaky puff pastry instead of ordinary rolls.  They're easy to make, and even easier to enjoy!
Thaw:

40 minutes

Prep:

15 minutes

Cook:

10 minutes

Bake:

20 minutes

Cool:

10 minutes
Recipe
Ingredients
2 tbsp.

all-purpose flour

1/2

of a 17.3-ounce package

Pepperidge Farm® Puff Pastry Sheets (1 sheet), thawed

1

medium

onion, cut in half and sliced (about 1 cup)

6 oz.

frozen beef sandwich steaks (4 portions), cut into thick strips

4 slices

processed American cheese food product
Directions
Heat the oven to 400°F.


Sprinkle the flour on the work surface.  Unfold the pastry sheet on the work surface.  Roll the pastry sheet into a 10-inch square.  Cut into 4 (5-inch) squares.


Heat the oil in a 10-inch skillet over medium heat.  Add the onion and cook until tender, stirring occasionally.  Remove the onion from the skillet.


Increase the heat to medium-high.  Add the sandwich steaks to the skillet and cook for 3 minutes or until cooked through, stirring occasionally.


Spoon one-fourth of the onion and one-fourth of the sandwich steaks on the bottom third of each pastry square.  Top each with 1 slice cheese.  Fold 2 opposite sides over the filling.  Roll up like a jelly roll.  Brush the pastries with the egg.  Place the pastries onto a baking sheet.


Bake for 20 minutes or until the pastries are golden brown.  Let the pastries cool on the baking sheet on a wire rack for 10 minutes.  Cut the pastries in half diagonally to serve.

Watch a how-to demonstration of this recipe technique.
Watch the demo to see how to make this type of recipe, then consult your recipe for specific instructions.
Tip
Previous tip
Heat is the enemy of Puff Pastry—it handles best when cold. So avoid working with it on hot, humid days, in a stifling hot kitchen or next to your oven.
When serving Puff Pastry, cut with a serrated knife for the most even, attractive presentation.
Puff Pastry can puff up to 8 times its original thickness. That means even a sheet rolled to a thin ¼-inch thickness will rise 2 inches.
Use a marble pastry board to help keep Puff Pastry cold while rolling and cutting.
Next tip
share your
Twist!
How do you make this recipe your own?