Mini-Cheeseburger Pastry Bundles
Mini-Cheeseburger Pastry Bundles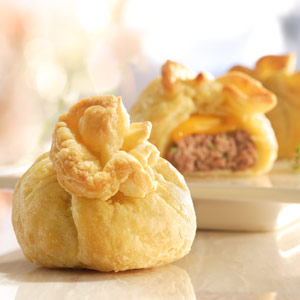 STUFFED recipe
Petite burgers get jazzed up with melted cheese and puff pastry to create an appetizer everyone will adore. Vary the cheese and ground meat in a multitude of ways for ever-new, go-to hors d'oeuvres.
Thaw:

40 minutes

Prep:

20 minutes

Cook:

10 minutes

Bake:

20 minutes

Cool:

15 minutes
Stuffed Recipe
Watch the demo to see how to make this type of recipe, then consult your recipe for specific instructions.
Tip
Previous tip
If any cracks form while you're working with Puff Pastry, just rub with a little water and press to seal the dough together.
You can brush an egg-wash glaze (1 egg plus 1 tsp. water) over the Puff Pastry to create a rich, golden sheen when baked.
Make sure the edges of your Puff Pastry are cut—a folded edge will not rise and puff.
To seal stuffed Puff Pastries, pinch the edges together or press with the tines of a fork, just as you'd seal a piecrust.
Next tip
Recipe
Ingredients
1 1/4 lb. lean ground beef

1 tbsp. steak sauce

1 tsp. seasoned salt

1/4 tsp. freshly ground black pepper

4 green onions, finely chopped (about 1/2 cup)

All-purpose flour

1 pkg. (17.3 ounces) Pepperidge Farm® Puff Pastry Sheets (2 sheets), thawed according to package directions

12 slices (1-inch square each) Havarti or Cheddar cheese, about 1/4-inch thick
Directions
Thoroughly mix the beef, steak sauce, seasoned salt, black pepper and green onions in a medium bowl. Shape the beef mixture firmly into 12 (2-inch) patties.

Cook the patties in a 12-inch skillet over medium-high heat for 10 minutes or until they're well browned on both sides. Remove the patties from the skillet and let them cool to room temperature.

Heat the oven to 350°F. Lightly grease or line a baking sheet with parchment paper.

Sprinkle the work surface with the flour. Unfold 1 pastry sheet on the floured surface. Roll the pastry sheet into a 10-inch square. Cut the pastry sheet into 6 (about 3 x 5-inch) rectangles. Repeat with the remaining pastry sheet to make 12 rectangles in all.

Place 1 patty onto the center of each pastry rectangle and top each with 1 cheese slice. Fold the corners of the pastries up over the filling and twist the corners to seal. Place the pastries onto the prepared baking sheet. Bake for 20 minutes or until the pastries are golden brown.

Make-Ahead: The assembled bundles can be prepared up to 1 day in advance. Cover and refrigerate until ready to bake.

Recipe Note: Parchment paper keeps the pastry from sticking to the baking sheet and also makes for easier cleanup. If you don't have parchment paper, you can spray the baking sheet with cooking spray instead. However, cooking spray may cause the bottoms of the pastries to brown more quickly, so begin checking for doneness 5 minutes early.