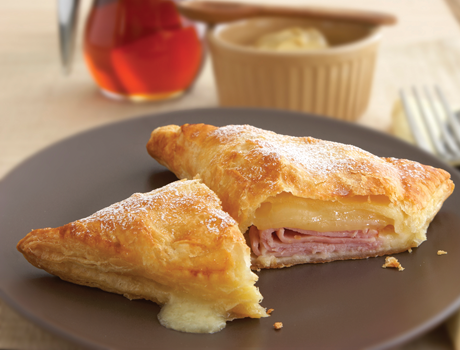 Baked Monte Cristo Sandwiches
Set aside the bread and serve this ham and cheese melt on puff pastry instead.  Sweet and savory never tasted so good...especially when topped with a sprinkle of confectioners' sugar.
Thaw:

40 minutes

Prep:

15 minutes

Bake:

20 minutes
Recipe
Ingredients
2 tbsp.

all-purpose flour

1/2

of a 17.3-ounce package

Pepperidge Farm® Puff Pastry Sheets (1 sheet), thawed

8 slices

deli ham (Black Forest)

4 slices

deli

Swiss cheese (about 4 ounces)

2 tsp.

confectioners' sugar
Directions
Heat the oven to 400°F.  Beat the egg and water in a small bowl with a fork. 


Sprinkle the flour on the work suface.  Unfold the pastry sheet on the work surface.  Roll the pastry sheet into a 12-inch square.  Cut into 4 (6-inch) squares.  Brush the edges of the pastries with the egg mixture.


With a corner of 1 pastry facing you, place 2 slices ham and 1 slice cheese on the bottom half of the pastry.  Fold the pastry over the filling to form a triangle and press the edges to seal.  Crimp the edges with a fork.  Repeat with the remaining pastries.  Brush the pastries with the egg mixture.  Place the pastries onto a baking sheet.


Bake for 20 minutes or until the pastries are golden brown.  Sprinkle the pastries with the confectioners' sugar.  Serve with the maple syrup.


Easy Substitution: For a savory twist, serve with Dijon-style mustard instead of the maple syrup.
Watch a how-to demonstration of this recipe technique.
Watch the demo to see how to make this type of recipe, then consult your recipe for specific instructions.
Tip
Previous tip
If any cracks form while you're working with Puff Pastry, just rub with a little water and press to seal the dough together.
You can brush an egg-wash glaze (1 egg plus 1 tsp. water) over the Puff Pastry to create a rich, golden sheen when baked.
Make sure the edges of your Puff Pastry are cut—a folded edge will not rise and puff.
To seal stuffed Puff Pastries, pinch the edges together or press with the tines of a fork, just as you'd seal a piecrust.
Next tip
share your
Twist!
How do you make this recipe your own?