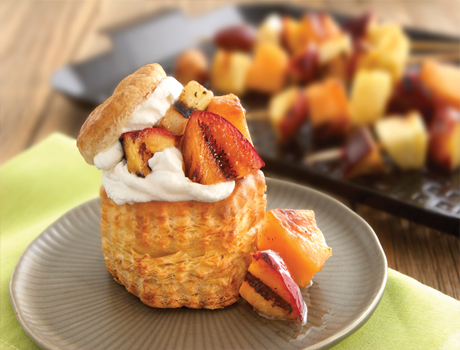 Grilled Fruit and Cream Puffs
Grilled fruit is so trendy...because it's so easy, and so good.  And when you serve the fruit in puff pastry shells, it makes a beautiful presentation.
Prep:

35 minutes

Stand:

10 minutes

Total:

50 minutes

Grill:

5 minutes
Recipe
Ingredients
1 cup

fresh

pineapple  cut into 1-inch pieces

1 cup

fresh

cantaloupe  cut into 1-inch pieces

1 1/4 cups

fresh

peaches, nectarines and/or plums cut into 1-inch pieces

1 1/2 cups

thawed frozen

whipped topping

1 pkg.

(10 ounces)

Pepperidge Farm® Puff Pastry Shells, prepared according to package directions
Directions
Stir the orange juice, honey and nutmeg in a medium bowl.  Add the fruit and stir to coat.  Cover and let stand for 10 minutes.


Thread the fruit onto 6 wooden skewers.

Lightly oil the grill rack and heat the grill to medium.  Grill the fruit for 5 minutes, turning it over once halfway through the grilling time, brushing often with the orange juice mixture.


Stir 3 tablespoons remaining orange juice mixture and the whipped topping in a medium bowl.


Place the pastry shells onto plates.  Divide the whipped topping mixture among the pastry shells.  Remove the fruit from the skewers and spoon into and over the pastry shells.  Top with the pastry tops.


Recipe Note: Soaking the wooden skewers in water for 30 minutes before adding the fruit will keep them from burning on the grill.

Make-Ahead: You can bake and cool the pastry shells up to 2 days ahead of time.  Store the unfilled shells in an airtight container at room temperature.  To reheat, place the shells onto a baking sheet and bake at 400°F. for 5 minutes.  Fill as directed above.
Watch a how-to demonstration of this recipe technique.
Watch the demo to see how to make this type of recipe, then consult your recipe for specific instructions.
Tip
Previous tip
Place Puff Pastry shells on ungreased baking sheets with "top" facing up. Place pastry shells about 2 inches apart on baking sheet.
To ensure that Puff Pastry shells will rise evenly, score the sides horizontally with a small knife.
Unfilled baked Puff Pastry shells may be stored in an airtight container at room temperature for up to 2 days.
Always bake Puff Pastry shells in a preheated 425°F oven. Do not bake shells in a microwave or a toaster oven.
Next tip
Inspiration
In many cultures, the pineapple is a symbol of hospitality and welcome.
On Social Media, Use

#

Puff

pastry
share your
Twist!
How do you make this recipe your own?